Hello cuties!
Only looking at my last lipstick reviews you can easily tell that when I do choose to wear a lipstick it will be a bright pink or a glamorous nude. YSL Fuchsia Rouge Pur Couture Pure Colour Satiny Radiance lipstick is just one of those, a lip color that makes me take a break from all of those lip glosses and just try out a creamy and lightweight but vibrant pink lipstick. I actually got YSL No.19 Fuchsia shade about two months ago, back in London as I wanted to try out a shade from their Kiss & Love Collection (info, photos) especially since I already had the YSL Kiss & Love Palette (review, swatches) from the holiday 2015 limited edition collection.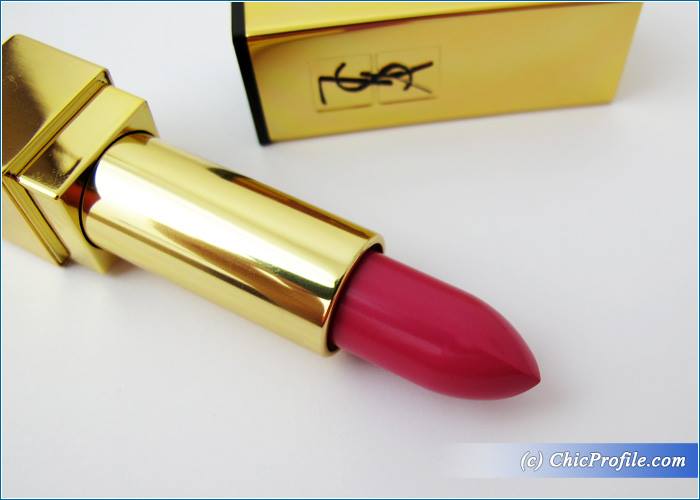 Availability
UK – Now at Selfridges
U.S. – Now at Nordstrom, Sephora and @yslbeautyus.com
YSL Fuchsia Rouge Pur Couture Pure Colour Satiny Radiance ($36.00 / £26.00 for 3.8 g / 3.8 ml) is a bright magenta purple with a nice satin sheen. In my opinion this is the perfect fuchsia color, pigmented, intense, rich and delivers an opaque color coverage in just one swipe. It's an extremely luxurious color with a creamy and lightweight texture.
I feel my lips nourished throughout the entire period while I'm wearing YSL Fuchsia Rouge Pur Couture. My lips are soft, supple and smooth. YSL Fuchsia lipstick is definitely not for those who are color shy as it is truly a captivating color that will attract attention.
I'm a light skin tone but it goes on me perfectly, without being to harsh so I say it's wearable for any skin color. Sometimes I like to keep my eye makeup as natural as possible since the color is so vivid but other times I'm in the mood of wearing it with a cat eye makeup or even a smoky eye look.
I love how easily and evenly it glides across the lips, without emphasizing lip lines and providing this subtle glow. It's a strong but elegant color nonetheless so I usually choose to wear it in the second part of the day, just thinking it can be too intense and bright for mornings or lunch meetings.
I'm a fan of products packed in a golden case or palettes which come in a golden packaging (even though is a struggle to photograph them) as for me this is the ultimate expression of elegance and refinement. So YSL Rouge Pur Couture shines in a golden case with a mirror-like finish and bears the YSL black logo. With packaging like this you have to know it's a struggle to keep it free from smudges though. 🙂
I had about 5 hours wear with this formula and when the color wore off it left quite a strong stain (with an even color) behind which latest for a couple of hours more.
Enjoy more photos…