Hello beauties!
I already told you how undecided I was between purchasing Viktor&Rolf Bonbon (review, photos) and Spicebomb Eau de Toilette, but since I got the first one from Harrods, I couldn't leave London without the last one. So there I was at the Heathrow airport checking out the duty free shops with my last remaining £50.00 and my head still at the men fragrance, when I saw the Viktor&Rolf Spicebomb Gift Set. If you are following me on Periscope you might have seen my broadcast back then, right from the duty free shop and how excited I was to see this fragrance in a gift set and for this amazing price. So obviously I dropped all thoughts regarding sweets and souvenirs and couldn't resist not buying this set.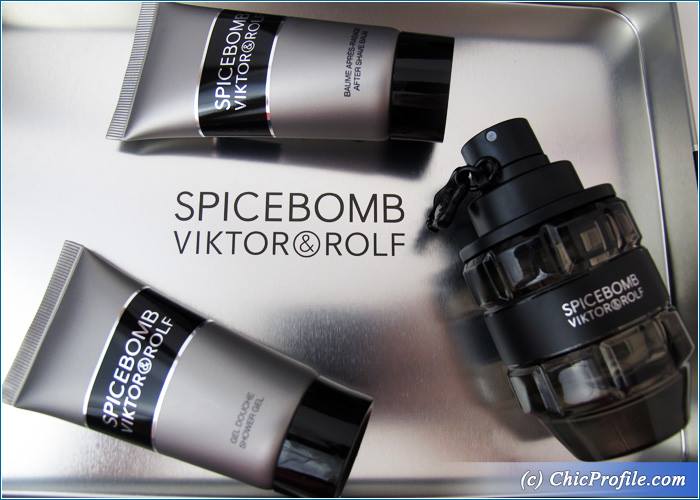 Oh, did I forgot to mention I bought it for myself? 🙂 Indeed, I do like to wear men fragrances from time to time and Spicebomb was just one fragrance that was on my wishlist for more than a year, since I first smelt it on my best friend. I knew right then and there, it was love at the first sniff and I had to have it without carrying that is actually Eau de Toilette for men. Well I've started wearing men perfumes since I was 16 years old and even though most times I'm feminine, I can't turn from a strong and spicy scent like Viktor&Rolf Spicebomb.
Availability
UK – Now at Harrods, Heathrow Duty Free
U.S. – Now at Nordstrom, Sephora
Viktor & Rolf Spicebomb Gift Set ($95.00 / £38.95) contains three products packed in a silver metallic case (which I'm currently using to store my makeup).
It comes with a 50 ml / 1.7 fl oz Spicebomb Eau de Toilette, 50 ml / 1.7 fl oz Shower Gel and After Shave Balm. I gave the last item to my brother, since I obviously had no use for it but I kept even the shower gel.
I'm not going modest here, and I will tell your right from the beginning that I love everything about Spicebomb. From the grenade shaped bottle to the addictive, explosive and seductive accords. I actually don't know what I'll do if I would smell this on some random guy….it's that dangerous to me.
An explosive encounter between two accords with detonating tones: the first, explosive, fuses zesty, fresh notes while the cold spices leave their icy bite. The second, addictive, combines a middle note of incandescent spices with a wholly masculine combination of leather and tobacco as well as the brute force of vetiver.
I really love how intense it smells on me and everytime I wear Spicebomb, I get asked about the scent and people near me notice it, so it's quite a powerful fragrance. Or maybe it's a powerful men fragrance wore by a woman?! 🙂
It's available as 50 ml or 90 ml and next time I'll probably get the full size, that's how much I love it.
Enjoy more photos…