Hello lovelies!
In the spring of 2014, Viktor & Rolf launched Bonbon Eau de Parfum, a fragrance that was love at first sight for me, from the moment I saw that cute adorable and feminine pink bow shaped bottle. I didn't even care about its fragrance notes and the fact that Bonbon could probably be too sweet for my taste, I just knew I had to have it. I knew the caramel middle note, will wrap the entire scent in sweetness and since I always choose chocolate instead of caramel, I was prepared to sniff this fragrance and purchase it nonetheless, that's how much I wanted it.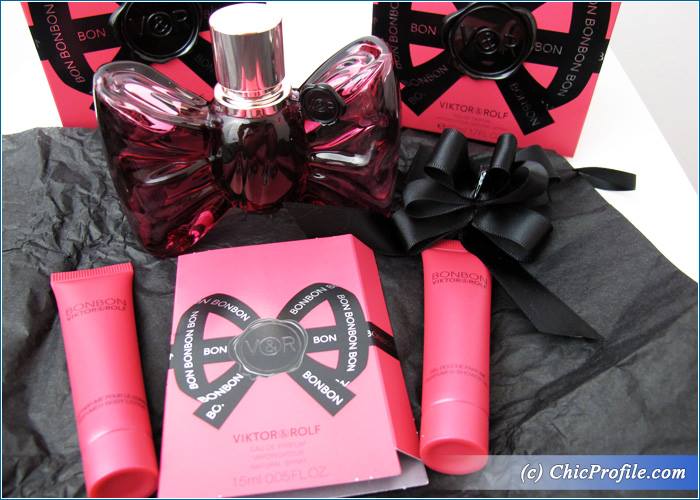 Availability
UK – Now at Harrods, Selfridges, John Lewis, Boots
U.S. – Now at Sephora, The Bay
My dream came true only this year in early November when I took that trip to London and I was able to purchase Viktor & Rolf Bonbon EDP (50 ml / 1.7 fl oz for £68.00) from Harrods. The fragrance is available as 30, 50 and 90 ml EDP but since indeed the scent is just a bit too sweet for me I decided to go with its medium version.
While I was there at Viktor & Rolf fragrance counter I wished to sniff again Spicebomb, one of my favorite fragrance for men. My best friend wore this fragrance last winter and that was the first time I got to smell it and I was instantly wrapped in its intense warm and spicy accords. So it took me quite a few minutes to decide between the sweet Bonbon fragrance but absolutely adorable and feminine pink bow-shaped bottle and the smell of this explosive and extrovert oriental – woody and spicy composition of Spicebomb. I did manage to make up my mind, even though it was a tough decision and I went for the feminine Bonbon fragrance which I'm wearing even now while I'm writing this article.
I don't find it so sweet anymore like I used to in the beginning and that's especially in the first few minutes when I sense the mandarin, orange and peach notes while the middle part still smells the sweetest due to its caramel, orange blossom and Jasmin flower accords. While I still find caramel to be the strongest note of Bonbon Eau de Parfum, after the base notes settle down I can intensely distinguish the Amber accords. The other base notes such as Guaiac Wood, Sandalwood and Cedar remain behind, just softly accentuating the scent.
I find it strange that even though I took the time to sniff also Viktor & Rolf Flowerbomb fragrance which is the feminine corespondent for Spicebomb, I didn't like it at all, so my heart nose still longed for that intense scent throughout my visit in London. Well the good news was that with my last remaining money I was able to acquire Viktor & Rolf Spicebomb EDP as a gift set from London Heathrow Airport at an amazing price offer. I will tell you more about that scent in a different article.
Along with my Bonbon Eau de Parfum purchase I also received a Bonbon Discovery Kit which you can see photographed bellow and includes a Bonbon Shower Gel (15 ml/ 0.5 fl oz), Bonbon Body Lotion (15 ml/ 0.5 fl oz) and a Bonbon EDP mini as 1.5 ml / 0.05 fl oz.
Enjoy more photos…