Hello pretties!
My passion for MustaeV Eyeshadows is well known by now if you are a frequent reader of my blog, so I can't quench my thirst for wanting to test, have and use more MustaeV colors. Right before I headed for London I was teasing your with my latest MustaeV eyeshadows and MustaeV Stone was one of the new colors, a perfect shade for wearing not only during the winter and holiday season but whenever you want a more intense makeup look.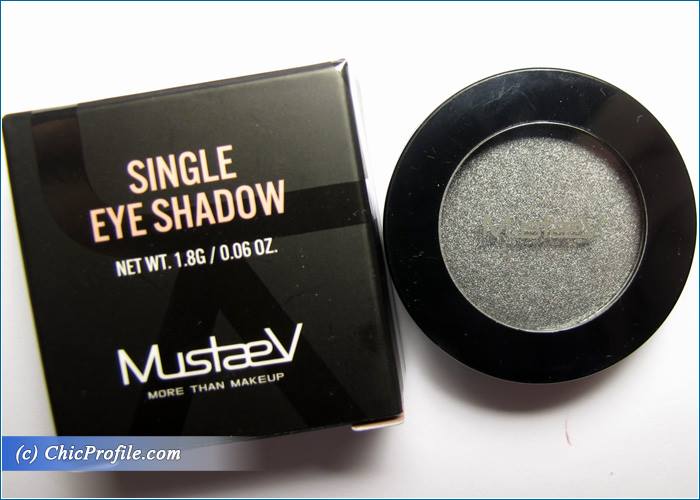 Availability
International – @mustaevusa.com (15% Discount using discount code: chicprofile), @mustaev.co.kr (International Shipping)
MustaeV Stone Eyeshadow ($13.00 for 1.8 g / 0.06 oz) is officially described as a dark grey shadow with a pearl texture that provides a velvety smooth application. I see it as a dark asphalt grey with cool undertones and a silver pearl texture.
I got this color as I already had MustaeV Charcoal Eyeshadow (review, swatches) a dark matte charcoal shade, so in my mind I already started picturing new smokey and holiday makeup looks by combing these two together.
My newly arrived Stone eyeshadow occupied right away one of the empty slots from my MustaeV 24 Eyeshadow Palette (review, photos) and it so easy to depot it (video) and make it fit right next to my purple and violet Mustaev single eyeshadows.
This shade is perfect for everyone who wants an intense, dark and pigmented shade without being super black. As it is a very dark grey but with a silky and smooth texture, it is applied easily and without any fall-out, not to mention without creasing throughout the day. You just need to swatch it once, on your hand without any eye shadow primer and you'll see for yourselves how pigmented and intense it really is, that is if you don't trust my swatches bellow. I like to use Too Faced Shadow Insurance Primer when I'm working with MustaeV eyeshadows, as it is one of my go-to shadow primers, so as you can see in the photo bellow there's almost no difference between the two application.
The finish has a soft sheen, which makes this color appropriate for a festive or holiday makeup look, but also versatile because you can use it on any smoky eye makeup look or something that requires a more dramatic or intense look.
It works with any eye color and can be applied over creamy eye shadows as well, blended on the crease, used on the entire lid or however you choose to wear it.
It has a sebum control powder that absorbs sebum (oily lids like mine will be thrilled to feel this formula) and assist with maintaining a hydrating, non-drying feel, with a long crease-free wear.
I had about 9 to 10 hours wear with this formula before I noticed the color was slightly loosing a bit of its intensity and pearl finish. The packaging is just as classy as most single shadows, as it comes in this black rounded plastic case with a transparent lid that snaps shut.
Enjoy more photos…