Hello beauties!
My love for Victoria's Secret brand is well know, so if we are talking about a lip gloss, which is my favorite lip product, and a purple shade, then I'm totally sold. Today I want to tell you more about Victoria's Secret Royal Beauty Rush Color Shine Gloss, a product that I purchased from a duty free shop in London.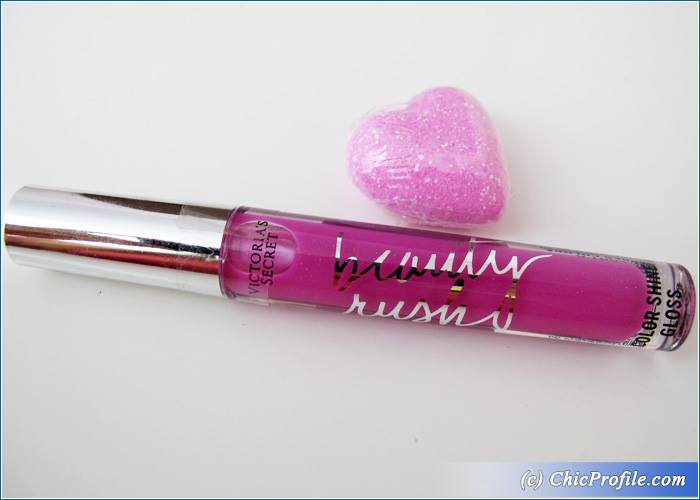 Where to buy:
U.S. – Now at Victoria's Secret and online @victoriassecret.com
UK – Now at Victoria's Secret Stores
Victoria's Secret Royal Beauty Rush Color Shine Gloss ($10/£8.00 each or 2 for $15 / 4 for $20 contains 3.1 g / .11 oz) is a light lilac with blue undertones and a glossy finish. The color is slightly sheer when swatched on the hand but on the lips it's quite noticeable.
It changes my natural lip color, with a light lilac hue and has this gorgeous wet lips effect due to its intense sheen. It glides easily across my lips, without feeling tacky and the formula is light sweet floral scented, but without any discernible taste to me. The formula is light, not very liquidy, feels comfortable on the lips and it's slightly sticky but without being something that I concern myself with.
I love that it doesn't sink into lip lines so it gives lips a fresh, more plump appearance, making them look fuller. Victoria's Secret Royal Beauty Rush gloss is the kind of color that I would choose to wear on a daily basis, when I want something in between natural and intense.
This packaging is actually one of my favorite when it comes to Victoria's Secret, as I really prefer lip glosses that come in a transparent plastic tube with a doe-footed applicator.
I can't say about the formula that is long-lasting as I had about 2 hour wear, without feeling my lips dry in the end. The color fades away quite fast once I have a meal, but it doesn't leave a stain.
Enjoy more photos…