Hello beauties!
Today I was in heaven. I got not only to see in person the new Guerlain La Petite Robe Noire Collection (info, photos) but also to test and swatch the shades and bring some of them home with me. I don't know how else can I express my enthusiasm about this collection than "love at first sight". Since the first time I heard about the upcoming Guerlain My New Delicious Lipsticks and La Petite Robe Noire nail polishes, I knew I will irremediably fall in love with them. Each product comes in a special edition packaging inspired by the famous Guerlain La Petite Robe Noire Fragrance, so you will easily notice this is one of a kind collection.
Breathtakingly feminine, chic and elegant Guerlain La Petite Robe Noire offers 20 lip colors with a seductive floral fresh scented formula, just like the editions of Guerlain La Petite Robe Noire fragrances.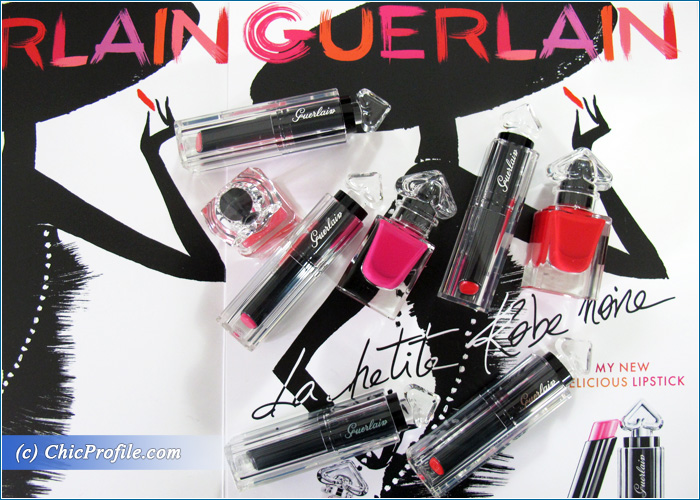 Availability
Romania Launch Date – February 2016
International Launch Date – Now in stores
Guerlain La Petite Robe Noire Collection
La Petite Robe Noire Delicious Lipstick – New & Permanent – 147.00 Lei / €29.50
I brought home with me only 5 shades this time, but next week I'm gonna get some more as I'm planning to individually review each Guerlain Delicious Lipstick. I got these as testers so I'll be reviewing them as such, until I will decide which shades I want to purchase. It's not hard to guess that for starters I picked up a variety of pink hues, a lilac but also a red one for those interested in more classy shades.
I spent my day testing and wearing about three of these lipsticks and as a quick preview I can tell you they feel amazing on the lips. The formula is so comfortable, while the finish offers a naturally glossiness.
What is amazing about these lip colors is the fact that you can choose the intensity of the color. I will explain more in detail when I post reviews, show you swatches as well, but the colors are buildable, so if you want something more natural one layer will do the trick, while a more intense and even opaque color coverage (for some of the shades) can be easily obtain in 3 layers.
They feel so extremely gentle on the lips, leaving them feeling soft, moisturized and glamorous looking, without having a thick formula.
Guerlain La Petite Robe Noire Nail Polish – New & Permanent – 115.00 Lei / €23.00
These are real gems. I mean, it's enough to only look at the unique elegant packaging to be mesmerized, I know I am. I'm a total sucker for pretty packaging when it comes to beauty products and sometimes I'm thinking that if more collections like this one will be released, I would definitely go broke.
I hoping to test some of these nail colors next week so I can tell you more about the formula, color opacity and long-lasting effect.
Honestly I couldn't be happier that Guerlain La Petite Robe Noire Collection is joining the permanent range as I will have time to purchase all of my favorite colors.
Enjoy more photos…