Hello beauties!
Victoria's Secret Punchy Beauty Rush Flavored Gloss got my attention right away when I was at the Victoria's Secret store on Bond Street. It was love at first sight with this color even though I didn't expect to look the same on the lips. I'm quite familiar with Victoria's Secret lip glosses' formulas and I know you can't expect an opaque color coverage on the lips, but I still couldn't resist this shade.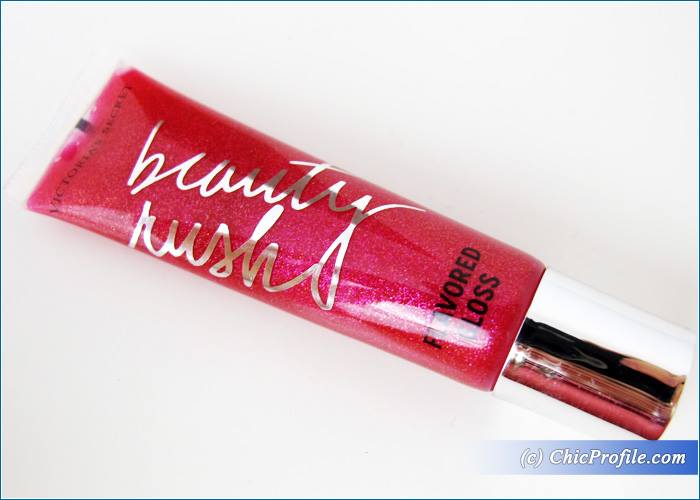 Availability
U.S. & UK – Now at Victoria's Secret stores and online @victoriassecret.com
Victoria's Secret Punchy Beauty Rush Gloss ($10/£8.00 each or 2 for $15 / 4 for $20) is a medium-dark fuchsia raspberry with pink shimmer and an ultra glossy finish. The color is absolutely gorgeous in the tube but it offers a sheer, almost transparent coverage on the lips.
You must really enjoy just a light hue of color on your lips but with an ultra shiny effect in order to love Victoria's Secret lip glosses as much as I do. It has a light jelly formula that applies well and evenly across the lips without being sticky or tacky.
The sweet scent formula is amazing and I can even feel the scent a few minutes after the application while the sweet taste is noticeable everytime I touch my lips.
I know the color won't dramatically change the natural color of your lips but it will make the appear fresh, plumped due to that high mirror shine effect and definitely with a playful look. I personally like to wear a color like this with a light eye makeup, usually in pink or nude tones, and most times during the day when I'm choosing a fresh, natural and effortless makeup look over something that would require more than 10 minutes to achieve it.
If you like the wet lips effect that Victoria's Secret Punchy Beauty Rush gloss gives you then you should definitely try it out. It's the kind of color and gloss that is suitable for adolescents as well, can be worn any day at school.
It doesn't sink into lip lines, on the contrary it will give you a fresh looking pout and add glossiness and a bit of shimmer to any lip color.
Unfortunately I can't say it has a long lasting formula as I didn't get more than 3 hours wear, and it especially fades out quickly whenever I have something to eat.
The packaging is not among my favorite, as I do prefer lip glosses that come with a doe footed applicator for an easy and more precise application. This squeezable tube doesn't offer me a precise application and sometimes I feel that I'm applying more product than I really need and I don't like the idea of leaving the tip feeling a bit sticky.
I bought this shade back in November when I was in London so if you are curious to see what other lip glosses and Victoria's Secret products I got please do take a look HERE.
Enjoy more photos…