Hello beauties!
Deborah Absolute Lasting Liquid Lipstick is a product that I previewed about two months ago but I got to wear it only recently. This is the kind of product that was like a major surprise (in a good way) for me, an unexpected beauty gem if I can say so…the kind that makes you say wow, where have you been all this time. I do admit I didn't have any expectation from Deborah Absolute Lasting Liquid Lipstick, as I'm not a fan of lip products in two steps, and especially ones with a matte texture. I've tried Deborah lip products before, but only a couple of shade of their Rossetto Shine Creator SPF 15 Lipsticks.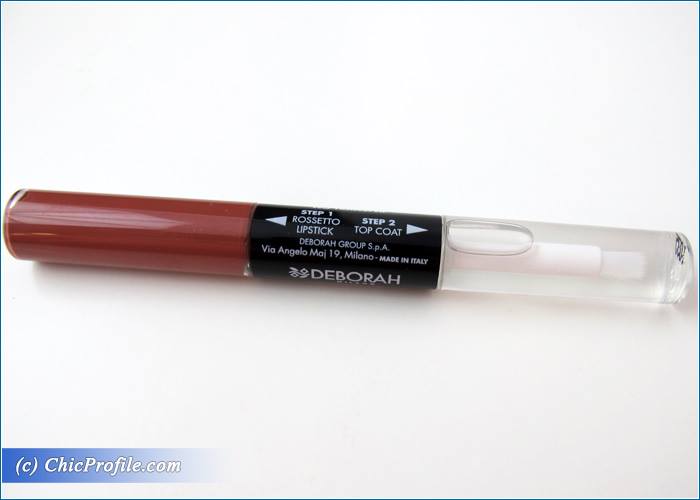 Availability
Romania – Now at Kendra, Carrefour, Debenhams
International – @profumeriasilvia.com
Deborah Absolute Lasting Liquid Lipstick No.02 (€10.40 for 2 x 4 ml) is a duo lip product which offers a colored liquid lipstick shade and a transparent top coat.
The lipsticks reveals a medium rosy chocolate brown with a soft matte finish, while the top coat is transparent and offers a super intense glossy finish. The color is rich, highly pigmented and comes opaque on the lips in just one coat. It dries down in seconds to a soft matte finish, which emphasizes lip lines. I really do recommend moisturizing and hydrating your lips as much as possible before using this product and even skip it if you have dry or chapped lips.
It applies easily and evenly across the lips, feels quite comfortable for a liquid lipstick with a matte formula which are usually known for sucking the moisture out of your lips. It doesn't feel sticky or tacky at all.
For me I feel that the color is a bit too much for my pale skin tone, but it could work out with a more intense eye makeup and worn in the evening. On those with medium and darker skin tones it would look lovely, I bet.
If you want to choose to wear only the liquid lipstick color and stop after the first step, you can totally do so, if you appreciate a matte lip, but it would dry out your lips pretty fast. The second step which requires the application of the glossy top coat, gives you not only that super shiny lips with a wet lips effect look but it will prevent them from looking dry.
Talking about long lasting formula? Well this is where I had my surprise…This liquid lipstick goes on and on and on….is like a color that is never fading away unless you really want too (and you have to struggle to take it off as well).
I wore this product on my lips about 3 times and everytime I had the same long lasting result. Well…one time after wearing this color for about 7 hours I even went to bed without removing it, just to see how much longer it can stick to my lips (being definitely convinced that it will fade until the morning). When I woke up I was amazed to see the color was still there on my lips and I didn't even felt them very dry. Even then in the morning I had to struggle for a couple of minutes with my Clinique Take the Day Off Makeup Remover for lips, to finally remover the lipstick color.
This puppy is pretty intense and the formula is like a paint that it won't come off, so you won't have to worry about retouching your lip color throughout the day or checking out your mirror after you had a meal. It will still be there at the end of the day. 🙂
The liquid lipstick comes with a doe-footed applicator which applies the color evenly and glides smoothly across the lips, while the top coat comes with a lip brush.
Enjoy more photos…