Hello pretties!
I'm taking a break from vibrant lip colors (well except red…I dunno what's going with me that nowadays I'm wearing red lips so often) and this season I'm leaning more towards sheer, nude and very pale peachy or pink lip glosses. I got Victoria's Secret Pinky Beauty Rush Lip Gloss back in November when I had my trip to London and I showed you already some of the Victoria's Secret beauty products that I returned home with (well almost everything…except a very cute fuchsia bag and some sexy lingerie obviously 🙂 ). I do admit I wasn't tempted to use the shade at all during winter so I picked it up from my collection to try out only recently.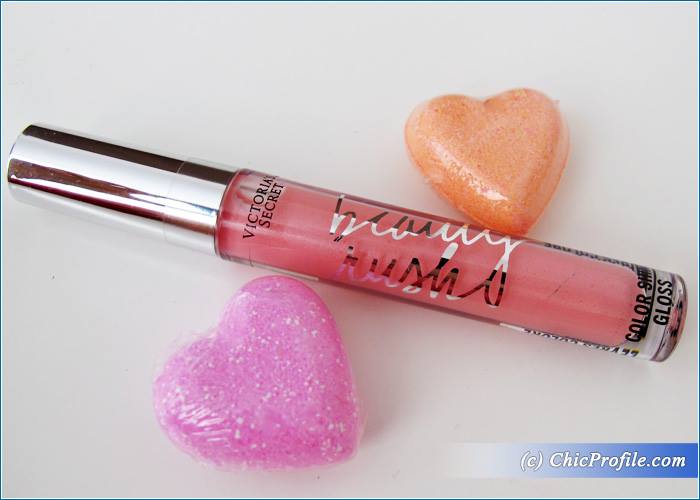 Where to buy:
U.S. – Now at Victoria's Secret and online @victoriassecret.com
UK – Now at Victoria's Secret Stores
Victoria's Secret Pinky Beauty Rush Color Shine Gloss ($10/£8.00 each or 2 for $15 / 4 for $20 contains 3.1 g / .11 oz) is a very light peachy, baby pink with fine shimmer and a pearl-glossy finish. It has a sheer color coverage, so it will turn your natural lip color more into a very light, nude rosy peach. The color looks very day time appropriate, it makes you look very fresh and innocent and it's the kind of color that you can wear it at school as well.
It looks beautiful on fair and light skin tones and makes lips appear healthy and plumed due to that gorgeous mirror-shine effect. It has a sweet scented formula with no discernible taste to me.
It comes in this transparent plastic tube with a doe-footed applicator for an easy application.
The formula glides evenly across the lips, feeling lightweight and comfortable, without being sticky or tacky at all. It has a medium consistency, not very thick or liquidy and doesn't emphasizes lip lines.
I can't say the formula is quite long lasting as it lasted for about 2 hours on my lips (without eating or drinking).
Enjoy more photos…