Hello beauties!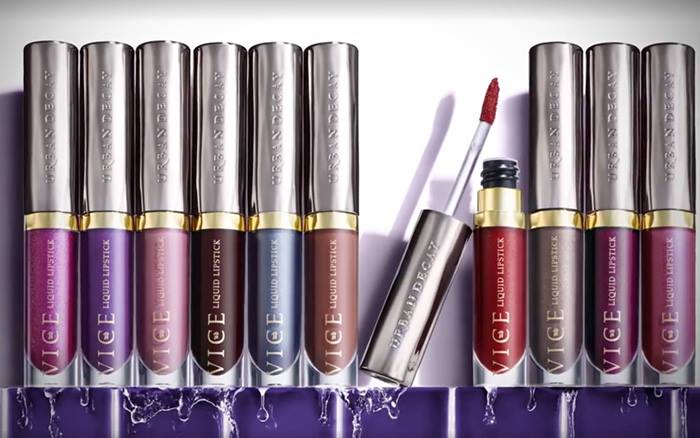 I'm writing a dangerous post here as I know I'll get addicted to the new Urban Decay Vice Liquid Lipstick collection. They are launching their first every liquid lipstick formula and by pairing it with the name Vice, I'm already thinking of rich and insanely pigmented shades. My addiction to Urban Decay Vice Lipsticks has no limits and my love for liquid lip formulas is already a cliche so I know I'll be mesmerized when I'll see these shades hitting counters. No launch date has been announced yet, but I'm hopping for a spring 2017 release.
Indulge your lipstick vice with 30 addictive shades, from comfort matte to metallized. This waterproof, long-lasting formula lays down intensely pigmented, comfortable color with insane color coverage.
Availability
U.S. Launch Date – TBA
Urban Decay Vice Liquid Lipstick – $18.00 / 98.00 Lei

Here are the names for some of the upcoming Liquid Lipsticks and I bet you'll notice some new shades as well.
Rock Steady – deep wine red (Comfort Matte)
Crimson – deep red (Comfort Matte)
714 – bright red (Comfort Matte)
Firebird – deep fuchsia (Comfort Matte)
Menace – medium fuchsia-pink (Comfort Matte)
Tryst – red-fuchsia (Comfort Matte)
Blackmail – deep berry wine (Comfort Matte)
Trivial – peachy beige (Comfort Matte)
ZZ – soft pink purple (Comfort Matte)
WSM – pink (Comfort Matte)
Black Talk – mauve nude-pink (Comfort Matte)
1993 – medium brown(Comfort Matte)
Amulet – metallic brick rose (Comfort Matte)
Conspiracy – plum bronze shimmer (Metallic)
Time – (Metallic)
Purgatory (Metallic)
Studded – neutral brown (Metallic)
Mad (Metallic)
Big Bang – bright pink sparkle (Metallic)
Enjoy more photos…