Hello beauties!
Urban Decay has released its new Summer 2016 Makeup Collection and already some of the products are sold out. The new Urban Decay summer essentials will give you a natural, radiant glow.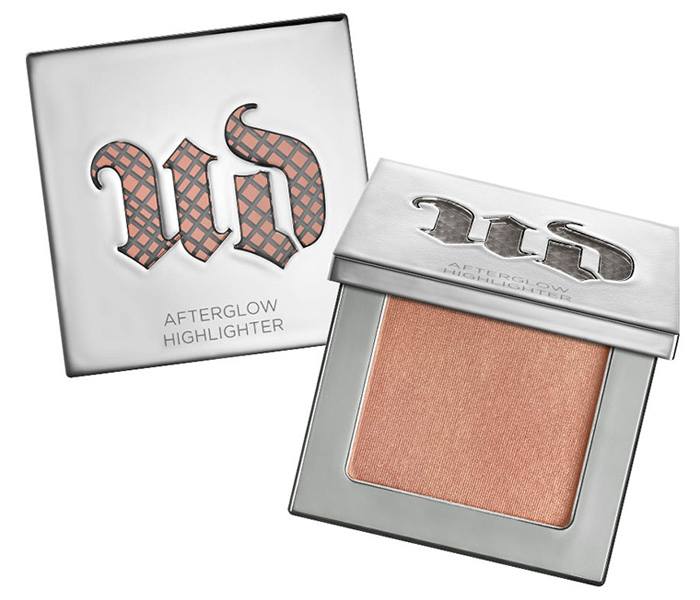 Availability
U.S. Launch Date – Now online @urbandecay.com | April 2016 at Sephora, Nordstrom, ULTA
International Launch Date – end April 2016
Urban Decay Summer 2016 Makeup Collection
Afterglow 8-Hour Powder Highlighter – New & Permanent – $26.00 / €28.00
Afterglow isn't your average highlighter; we took the time to finely mill the powder until it was just right. The result: a lightweight (yet luxurious) feel and a super-soft, creamy texture. Afterglow Highlighter goes on sheer and blends easily. Use a little or a lot; our wearable formula always applies beautifully, no matter how much you build it (and never leaves just a powdery dusting of shimmer). Available in a range of shades suitable for any skin tone, Afterglow creates a glowy, strobed effect that lasts all day (even if you're crashing at your desk by 3pm).
Sin

– champagne

Fireball

– peach with pink shift

Aura

– iridescent light pink
Beached Bronzer – New & Permanent – $28.00 / €28.00
There's nothing sexier than bronzy, glowing skin—sans the sun damage, of course. When you get the look right, it's SO right. But get it wrong, and you risk looking like you had a run-in with an Oompa-Loompa (not pretty). Nail the golden goddess look every time with Beached Bronzer. Dust this silky powder on your face or all over your whole bod—and look like you spent a week hanging out on the sunny beaches of Fiji (rather than in a drab, windowless office). Our finely milled, super-soft formula applies smoothly, doesn't streak, and creates a radiant glow that won't quit. Get Beached (not burned); these universally flattering matte shades provide sheer, natural-looking coverage every time.
Sun-Kissed

– matte light-medium bronzer

Bronzed

– matte medium-dark bronzer
24/7 Waterline Eye Pencil – New & Permanent –  $20.00 / €20.00
Walk of Shame

– nude

Heartless

– light frosted pink
Naked Skin One & Done – New & Permanent – $34.00 / €34.00

Instantly blur imperfections and even out skin tone—for beautifully perfected, ultra definition skin. (Naked Skin One & Done gets the job done so well, there's no need for foundation.) Our high-tech, weightless formula provides all-day wear and feels amazing. But the best part is how it transforms the look of your skin! Light-diffusing spheres instantly help make flaws seem to disappear. Over time, pores look smaller and skin appears noticeably firmer and more radiant. And our broad range of easy-to-match shades covers a wide spectrum of skin tones.
Light

– Naked Skin shades 0.5 to 3.5

Medium Light

– Naked Skin shades 3.0 to 4.5

Medium

– Naked Skin shades 4.0 to 7.0

Medium Dark

– Naked Skin shades 6.0 to 8.0

Dark

– Naked Skin shades 8.0 to 10.0

Deep

– Naked Skin shades 10.0 to 12.0
Naked Skin Weightless Foundation / Concealer – New & Permanent – $40.00 / $28.00 ( €24.00)
Concealer

: Dark Warm, Dark Golden, Deep Neutral

Foundation

: 1.5, 2.5, 3.25, 7.75, 8.75, 9.75
Enjoy more photo…