Hello pretties!
Well, you are already aware of my current Urban Decay Vice Lipstick addiction but this one goes hand in hand with the matching color lip pencils. Pink is an obvious color choice here on Chicprofile so Urban Decay Anarchy 24/7 Glide On Lip Pencil review comes just as natural. This hot pink color goes well with some of my favorite Vice Lipsticks in Anarchy, Crush and Firebird, not to mention that I've used it on other fuchsia lipsticks from YSL, Lancome, Estee Lauder, Giorgio Armani, MAC, D&G…you name it. I wanted to try this color with every hot fuchsia tinted lipstick color I own and it paired beautifully. Just the other day I had it on my lips from morning till late in the afternoon paired with my new purchased MAC What's Going On! Vamplify Lipgloss (review, swatches, photos).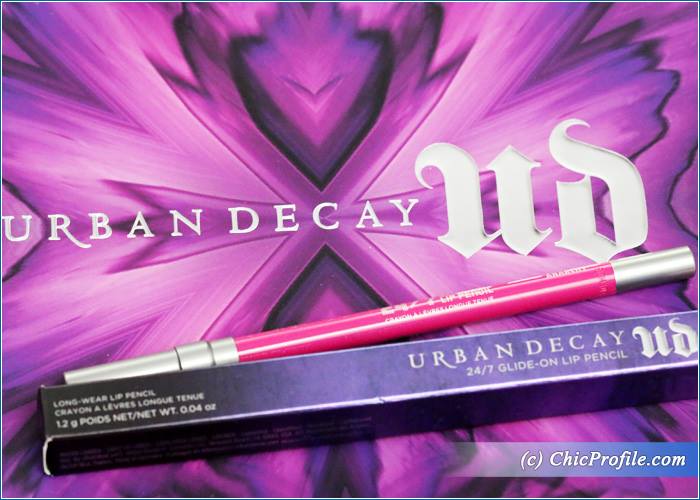 Where to buy:
Romania – September 2016 exclusively at Sephora in Vitan, Baneasa, Promenada, Feeria, Afi Palace Cotroceni, Magheru and @sephora.ro
U.S. – Now at Sephora, Nordstrom, Macy's, ULTA, @urbandecay.com, @beauty.com
UK – Now at House of Fraser, John Lewis, Harvey Nichols
Urban Decay Anarchy 24/7 Glide-On Lip Pencil ($20.00 / £13.50 / €19.50 / 92.00 Lei for 1.2 g / 0.004 oz) is officially described as a bright fuchsia. It comes as a strong, neon fuchsia with cool undertones and a light sheen with a matte finish. It has an insanely pigmentation, showing a rich and bold color.
It comes totally opaque on the lips with a full color coverage. This hot pink will go with any cool toned pink lipstick out there, either matte for creamy. It glides smoothly and effortlessly across the lips without pulling or tugging. The color is rich and gets totally opaque in one layer without the needing of building up the color.
This makes it as a perfect lip base if you will use it on your entire lip and will increase the wear of any lipstick layered on top of it by a couple of hours. The formula feel lightweight but a little bit waxy when applied. It didn't felt creamy throughout the wear as Urban Decay states but I didn't feel dryness either.
I wore it on its own and I got around 8 hours wear and a pink stain afterwards. It doesn't sink into lip lines and it doesn't come on looking dry or emphasizes lip lines in any way. It looks absolutely flattering worn on its own if you prefer it that way but it goes on beautifully underneath a lipstick, lip cream or lip gloss. It adheres on the lips once applied and my favorite way to wear it is underneath a lip gloss because it does make it last longer, with some formulas it even ads up to 3 hours wear.
I absolutely love the color so if you are not shy of a strong, hot pink-magenta color then you should definitely go for this one. I noticed that it does need sharpening a bit more often that I'd like to, because I prefer to have a pointed crisp tip, for a precise lip line. Once applied the color doesn't migrate so this makes it a long lasting lip pencil.
Enjoy more photos…