Hello beauties!
I'm just gonna cut to the subject…direct and without anesthetic! MustaeV Maxi Volume Mascara is one of my all-time favorite mascaras and kept remaining in my top 3 favorite mascaras until now. I've been using this baby for over an year and a half now and you've seen me so many times wearing it and mentioning it in my makeup tutorials. Since last year, I noticed MustaeV changed the packaging for this mascara and last month I received a new one so this time I was pretty curious to see if they've done something different or is just a new packaging.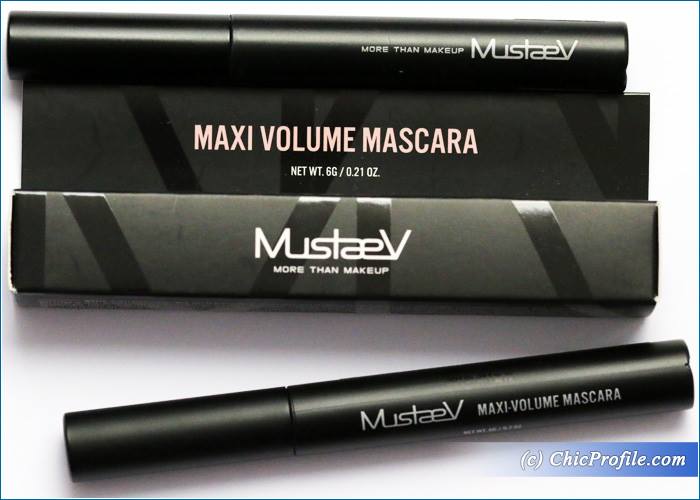 Where to buy:
U.S. and International – Now @mustaevusa.com (15% Discount using discount code: chicprofile) Worldwide Shipping, @mustaev.co.kr
MustaeV Maxi Volume Mascara ($18.00 for 6 g) comes in one single shade, a deep black, just the classic color for everyone. I'm just gonna go and say it that I'd definitely want a couple more shades, at least a brown and a purple that will complement my green eyes (I'm selfish what can I say 🙂 ) but a shade extension will definitely benefit other eye colors as well.
I was telling you that since I discovered it, this one became my go-to mascara, the one that I reached for on a daily basis. Whenever I wanted a day makeup look, something classy or just a simple, natural and chic, MustaeV Maxi Volume Mascara was there. Later on I found myself reaching for it in my makeup drawer even in the evening for a night out, a more fancy event, weeding or just clubbing.
If you haven't tried this mascara yet, you may not thing too much of it from my photos and you may even dare to say…"well this looks just like a regular mascara, regular bristles and nothing to make me saw WOW those lashes" but I'm telling you, this one is a WOW mascara.
It does two jobs at the time, day and night, being able to coat every single lash, even the tinniest ones and add depth, volume and length to your lashes in a natural way. I absolutely love the deep black color which darkens my lashes while the pigment stays in place for the entire day. It adds volume without creating that spider lashes effect and separates each lash.
It's the kind of mascara that will give your lashes their best version while they will still look natural. Even those with short lashes will see how curvy and voluminous they will get after two coats of MustaeV Maxi Volume Mascara.
During the day and most times I admit that one coat is enough for me, but in the evening I like to add a little bit more to my lashes so I coat them twice, adding more color and insisting at the roots to curve them and elongate them more.
You can check out my previous review of MustaeV Maxi Volume Mascara for before and after photos or just check out my Chic Makeup Looks for more than just one demonstration.
The change I noticed in the new version was just in the packaging as MustaeV added the Maxi Volume Mascara name right next to their signature. The brush has the same bristles and the formula is just as long lasting as I knew it was without clumping to your lashes and being easy to remove after a day wear. My lashes feel soft and lightweight throughout the wear.
So even though this one may look like a regular mascara I'm telling you it may surprise you. They kept the same price for this product and for me it last more than 2 months or even more depending how often I'm using it.
If you did tried this mascara I'm curious to know what you think of it. Are you just excited as I'm about this mascara? 🙂
Enjoy more photos…