Hello beauties!
I've been writing this post since this morning…well I know how that sounds, but I was actually gathering promo photos of the products from Lancome Paris En Rose Holiday 2016 Collection that I already told you about back in August. If then I had only the color story for you guys, today I'm back with some promo photos as some items from this collection have started to pop-up on different stores. I bet the entire collection will be available everywhere by the end of the month, but at the moment I'm hooked on this gorgeous piece of Lancome La Palette des Reves (The Palette of Dreams). Isn't it gorgeous? That glamorous and luxurious golden packaging has definitely got my attention and the shades inside are right up my alley especially since I've already posted swatches on Instagram.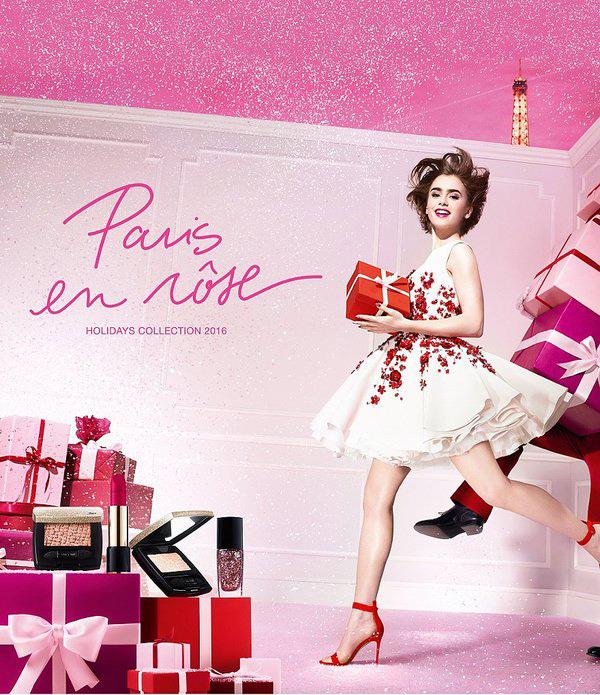 Experience the enchanting Paris en Rose collection with color inspiration by Lisa Eldrige experience a tapestry of shades inspired by beautiful holiday Parisian lights and crystalline snow flakes. Earthy neutrals dress eyes in natural splendor while bold pink and roses color lips. Star products feature new bouncy, soft eye shadows that can be used wet or dry plus double ended eye pencil to smoke and illuminate.
Availability
U.S. Launch Date – Now at Saks, Dillards
Malaysia Launch Date – Now at Parkson
UK Launch Date – Now @lancome.co.uk
International Launch Date – November 2016
Lancome Holiday 2016 Paris En Rose Collection
Lancome La Palette Des Reves – Limited Edition – £40.00
La Palette des Rêves' rich tapestry of shades is inspired by beautiful Parisian lights and crystalline flakes of snow on a cold winter's night. Discover six stunning eyeshadows in a collector case that goes from a sparkling cream to a warm golden brown. Each shade is easy to apply on the go thanks to the expert applicator and mirror inside the case.
Ombre Hypnose Wet & Dry Eyeshadows – Limited Edition – $26.00
No.16 Blanc Scintillant
No.26 Brun Glace
No.36 Rose Satin
No.46 Hotel Particulier
Le Duo Khol / Double-Ended Eyeliner + Highlighting Pencil – New & Limited Edition – $27.00
No.01 Paris la Nuit
No.02 Brun Glace
No.04 Hotel Particulier
Vernis in Love – Limited Edition – $15.50
No.161 Blanc Scintillant
No.361 Paris en Rose
No.261 Brun Glace
No.461 Hotel Particulier
Lancome Aquatique – $26.50
L'Absolu Rouge – $32.00
No.377 O Oui
No.368 Rose Lancome
Grandiose Extreme Mascara – $32.00
Enjoy more photos…