Hello pretties!
OMG, the collection we've been waiting for is almost here! I couldn't be more excited about Too Faced Spring 2017 Sweet Peach Collection launching this month as I gave you a first look at these precious, peachy scented makeup items since summer. Too Faced has been teasing us over the past few months with sneak peek photos and previews of what's to come for spring 2017 and announced their famous Sweet Peach Eyeshadow Palette to be part of this collection.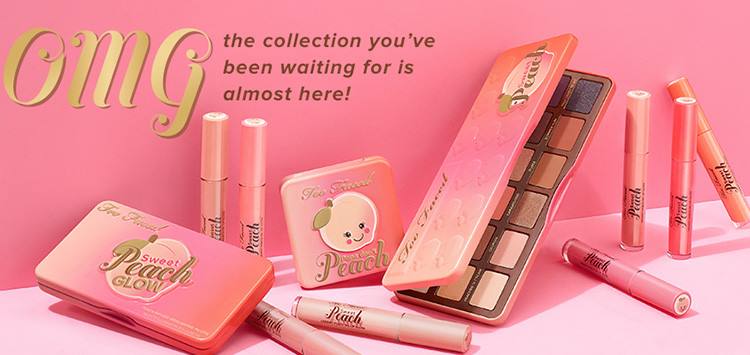 Availability
U.S. Launch Date – 14 December 2016 @toofaced.com | 15 December 2016 online at other retailers (ULTA, Sephora) | 26 December – In Stores (Eye Palette) | 5 January 2017 In Stores (the entire collection)
Too Faced Spring 2017 Sweet Peach Collection
Sweet Peach Eyeshadow Palette – $49.00
The Sweet Peach Eye Shadow Collection Palette is infused with the juicy scent and antioxidant-rich essence of peach. Create endless looks with 18 shades of peachy pinks, corals, bronzes, and pops of purples that will leave your eyes looking warm weather-fresh all year long. It features a Glamour Guide with three eye looks to get you started.
White Peach

– matte vanilla cream

Luscious

– pearl peach champagne

Just Peachy

– shimmering peachy pink

Bless Her Heart

– golden moss

Tempting

– bronzed black

Charmed, I'm Sure

– matte medium cool brown

Nectar

, – pearly peachy cream

Cobbler

– peachy pinked bronze

Candied Peach

– matte coral with violet shimmer

Bellini

– gilded peach

Peach Pit

– satin perfect raisin

Delectable

– matte smoky amethyst

Peaches 'n Cream

– matte milky peach

Georgia

– matte peachy pink

Carmelized

– dark gilded bronze

Puree

– metallic dark bronze

Summer Yum

– matte gingerbread

Talk Derby to Me

– shimmering black violet
Papa Don't Peach Blush –  $30.00
Papa Don't Peach Blush's sweet peachy-bronze hue imparts fresh, youthful-looking radiance to cheeks for a touch of summertime warmth. Infused with the essence of peach, this blush smells like peaches, and its rich, pigmented shade provides buildable payoff. Wearable and flattering on any skintone, it leaves a gilded, pink-pearl, brightening finish. Early access on 12/14 on Sephora's app.
Papa Don't Peach

– peachy-bronze
Sweet Peachy Creamy Peach Oil Lip Gloss – $19.00
Sweet Peach Creamy Lip Oil has a moisture-rich formula that feels lightweight and creamy. It features shades in nudes, peachy pinks, and corals. Silky and smooth, it's infused with the skin-loving essence of peach, coconut oil, and vitamins, and each shade smells just like peaches.
Poppin' Peach

– bright peach pop

Papa Don't Peach

– spiced peach

Peach Fuzz

– peachy nude

Peach-sicle

– creamy peach

Pure Peach

– peachy pink

Peach, Please!

– coral pink

Peach Tease

– electric peach

Tickle-Me-Peach

– watermelon
Sweet Peach Glow Peach-Infused Highlighting Palette – $42.00
This illuminating, blushing and bronzing palette gives the natural radiance of a glowing peach sunset. Give your skin the appearance of being bathed in the most beautiful peachy golden light.
Enjoy more photos…