Hello beauties!
MustaeV is a Korean brand that I hold dear to my heart and I bet you saw me mentioning their wonderful products many times in my reviews or beauty looks. This year they decided to expand their range of products and move on the skincare section actually, which got me super excited, knowing how famous and super quality Asian skincare products are. A few months ago MustaeV introduced four Sheet Face Masks that should be applied according to your mood. I had to admit I was surprised by the idea of trying out a face mask according to your mood and I actually got curious to see how they perform. So after a late night party on the previous day I knew I would start my day with MustaeV Moisture-Lifting Pleasure Mask. I told you guys my first impressions that day on Instagram when I first posted about the MustaeV Pleasure Sheet Mask and ever since I was longing for a couple more of this one, especially since December is party month for me with my birthday coming up and holiday season.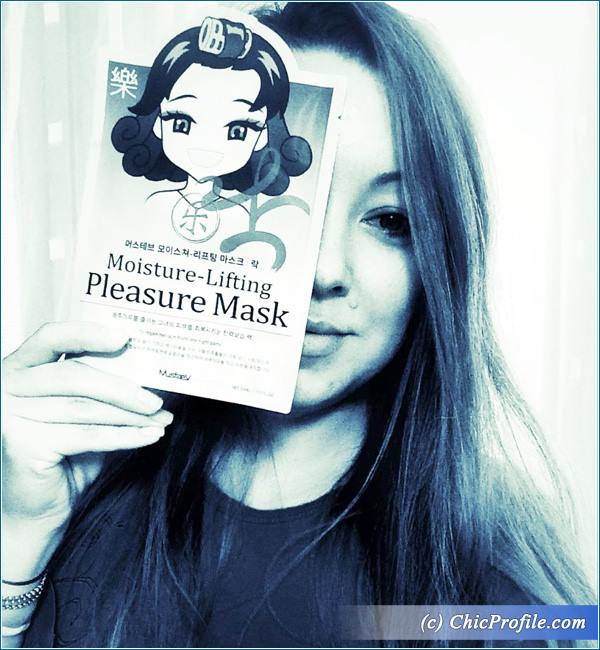 Where to buy:
U.S. and International – Now @mustaevusa.com (15% Discount using discount code: chicprofile) Worldwide Shipping, @mustaev.co.kr
MustaeV Moisture-Lifting Pleasure Mask ($3.00 for 33 ml / 1.115 fl oz) is an energizing sheet mask packed with nourishing ingredients. This sheet face mask is ideal to use whenever you feel your skin dehydrated, dry and fatigue or you are noticing a loss of elasticity.
So, as I said, after a late night party…I came home early in the morning and since I had to start my day in less than 7 hours and I knew I wouldn't have that much time to sleep and recover, MustaeV Pleasure Mask would be my ideal choice. When I woke up I made a fresh, squeezed orange juice to regain my strength and to freshen up my skin, making it look rested, invigorated I hurried to try out the Pleasure Mask.
This energizing mask is infused with with vegetable extracts that hydrated and tone fatigue skin. The skin is uplifted appearing supple, radiant and refreshed. So this mask is like an instant boost of freshness to your skin that will instantly restore skin's moisture, radiance and well-being.  It's a super hydrating mask that will give you an instant feeling of comfort and soothing once you apply it and you will notice how it tones your skin.
What I personally like to do when I'm applying any of MustaeV Sheet Face Masks is to sit lay on my bed, listen to chill music and try to relax and enjoy the comfortable sensation for about 15-20 minutes.
How to Apply:
Apply it after cleansing, on moisturized skin
Remover the Mask from the sachet and gently unfold, and place the mask evenly on the entire face, smoothing it to fit the curves of the face, adjusting around the eyes, nose and mouth.
Leave the mask on for 10 to 20 minutes for maximum absorption.
To remove, peel off the mask and discard. Gently wipe off any excess liquid from the skin (don't need to rinse).
Use the excess essence in the pouch to apply on your neck and the back of your hands.
I have a combination skin type as you know it, but I still like to keep this mask on for 20 minutes and afterwards I'm telling you that I had a lot of product excess that I could work it up in my skin, without needing to apply any face cream or lotion. This mask is so rich in ingredients and has a pleasant fruity smell that gives me an instant relaxing sensation.
Afterwards my complexion felt more hydrated, regain its elasticity, was looking fresh, rested and more luminous so I would definitely try this mask again, not only after a rough night, when I partied or didn't get to much sleep, but also after a stressful day.
I also have a sensitive skin so I carefully choose what skincare products I test, but after using MustaeV Pleasure Mask I didn't have any allergic reaction, no red spots, swelling, itching or irritation.
Main Ingredients:
Coconut Extract – provides moisture and is a good skin softener. It also can soothe and improve the appearance of irritated skin.
Camellia Sinesis Leaf Extract – a potent anti-inflammatory and antioxidant that helps prevent aging and the loss of elasticity.
Acerola Fruit Extract – protects against free radical damage that can accelerate skin aging. Boosts the production of collagen and elastin along with increasing the ability of skin to retain moisture.
Rose Hip Extract – provides moisture, is excellent at soothing the skin and has anti-inflammatory benefits.
I've tried several sheet masks over the past few years but I MustaeV Sheet Masks really feel different on the skin. The consistency is much thicker, like a high performance jelly essence which provides maximum adherence that infuses moisture and nutrients into the skin along with providing aromatherapy to uplift your mood. The other face masks I tried had a more liquidy formula and they provide a low absorbability.
Enjoy more photos…