Hello pretties!
Tom Ford Lavender Lure Sheer Cheek Duo is the only item I bought from Tom Ford Winter Soleil 2017 Holiday Collection (review, swatches). Is a new and limited edition shade that is suppose to come on sheer. You know how hard is for me to resist pink shades so I had my eyes on this beauty for a while now. I personally prefer sheer check colors if they are pink even better.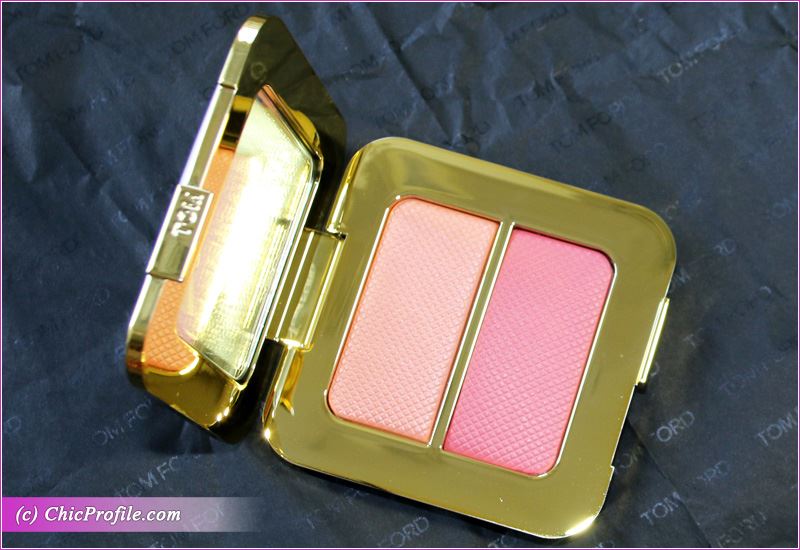 Where to buy:
U.S. – Now at Nordstrom, Neiman Marcus, Saks, Sephora, Bergdorf Goodman
UK – Now at Selfridges, Harrods
Tom Ford Lavender Lure Sheer Cheek Duo ($80.00/ £59.00 for 0.15 oz. / 4.4 g) features a pink highlighter and a bold rose blush. These colors go well together and are suitable for any skin color. I'm a very light skin tone so a sheer cheek color is perfect for me.
According to Tom Ford both colors can be applied wet and dry. The strange thing to me is their affirmation that for a soft veil of color you should apply them wet. If you want a pop of vibrancy then you should use the colors dry. Wasn't usually the other way around? Well, I tried it their way. For me personally, when I wanted to apply both color with a dampened brush I got more pigmentation. So that's definitely not the sheer color effect I was aiming for. I would want to get more pigmentation and make that highlighter pop for a night time look. Or if you have a darker skin tone you should know that you can easily build up the color and intensify it.
So basically, no matter what skin color you have, either if you want a sheer look or more intense coverage you can definitely get with Tom Ford Lavender Lure. Applying both colors with a dry fluffy brush and a light hand I get a nice wash of color. For me is enough and I prefer it that way, but again you can add another layer of color if you want more pigmentation.
Tom Ford Lavender Lure Sheer Cheek Duo Review
Lavender Lure (Highlighter) is a light peachy-pink with warm, yellow undertones and a slightly metallic finish. It had a good color payoff, easily buildable to opaque coverage. If applied with a light hand and a fluffy (dry) brush you can get a nice hue suitable for any fair to light skin tone. If you choose to apply it with a damp brush you'll get a more intense color and a highly metallic sheen.
I do believe this color is so versatile, can be used by anyone and it only depends on how you apply it. It can take you from sheer to intense coverage in just two or three layers. You can wear it during the day or for a night time look if you apply it wet.
The texture feels very smooth and soft to the touch. It has a dense consistency but you can easily pick it up with a fluffy brush. If you want more pigmentation out of this color then a denser brush will work better. I like that it didn't emphasizes my pores and didn't look very intense on me. I also like the metallic finish, but is not very potent so I can definitely use this in the morning or during the day. The color started to fade after almost 9 hours wear.
Lavender Lure (Blush) is a bold, medium rose with slightly warm undertones and a satin finish. It has a good color payoff and great pigmentation. The texture is dense but feels very smooth to the touch. If you want just a wash of color like me then a fluffy dry brush will do the trick. If you want more pigmentation, either for a night time look or because you are medium to darker skin tone, you can apply it with a dense brush. You can easily intensify the color by adding 2 or 3 layers or use a dampened brush.
I absolutely love the color as for me is wearable during day or night time. I will wear it again tomorrow so you can check out my look on Instagram or Instastories. 🙂
The color wore well on me for almost 9 hours without any fall out. It didn't emphasize my pores and made my cheeks look fresh and healthy. 🙂
SHOP THIS POST