Hello pretties!
What better day to launch Tom Ford Eyes of Tom Ford Collection than Black Friday. You can take advantage of the Black Friday sales and shop the products from this Holiday 2017 collection. I actually went to Tom Ford boutique yesterday to see and swatch them. The first Tom Ford boutique was opened this week in London, Covent Garden so I didn't want to miss the chance.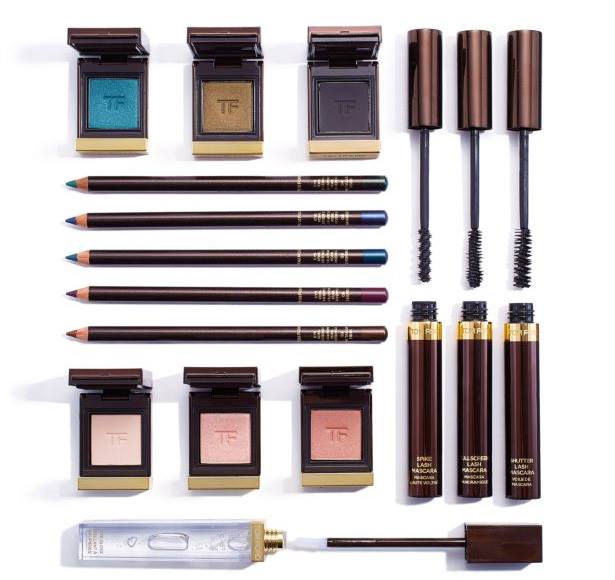 Availability
U.S. Launch Date – 24 November 2017 at Nordstrom, Neimain Marcus, Saks
UK Launch Date – 23 November 2017 at Tom Ford Boutique (Covent Garden) exclusive | 1 December 2017 at Selfridges, Harrods
Tom Ford Eyes of Tom Ford Holiday 2017 Collection
As I said lovelies, I went to check out the new Tom Ford Single Eyeshadows and got to play a bit with the colors. I posted LIVE SWATCHES for you on Instagram yesterday but I'll return with more photos and impressions in a few days.
A wardrobe of thrity shades featuring five distinct finishes with the color, stle and perspective that define the Tom Ford look. Encased in luxurious clutch-sized mirrored compacts, each single shadow from demure nude to unabashed bold becomes a discrete expression of unadulterated color. Highly pigmented, longwearing, crease-resistant.
ULTRA SUEDE FINISH: Completely matte, no pearl. Shades: Naked City, Blonde Venus, Vertigo, Starlet, Dark Victory, Nightcast
SUEDE FINISH: Demi-matte with subtle pearl. Shades: Hus, Burnt Suede, Loveshade, Agenda Rouge, Videotape, Highrise
SATEEN FINISH: Lustrous pearl with a glowing sheen. Shades: Exposure,Moonlighting, Infrared, Iris Bronze, Smoked Opaline, Silverscreen
VINYL FINISH: Hightly pearlized, metallic chrome. Shades: Body Double, Warm Leatherette, Violet Vinyl, Photographic, Purple Reign, Blue Velvet
PAILLETTE FINISH: Sequined, glittery pearl. Shades: Breathless, Fire Sign, Camera Obscura, Emerald Sun, Tempete Bleue, Black Onyx
Gleaming, high-shine second skin lacquers eyelids with a sleek, wet look that's designed to highlight every skin tone. Clear and non-sticky, the long-lasting formula wears comfortably for a perfect sheen.
A rich, ultra-smooth, versatile Eye Kohl. Create Tom Ford's signature sexy, smoky eye look with this intense, kohl-effect pencil. It combines innovative technology with rich color pigments and glides on skin for an ultra-fluid application. It includes a custom sharpener.
Bruise
Espresso
Metallic Mink
Metallic Moss
Midnight
Onyx
Tourmaline
White Smoke
Spike Lash Mascara – A customized molded brush with triangular spikes help to clump lashes together for a rising-from-the-water, dewy peaked look that commands with stylized, cinematic drama. Extreme 16-hour wear, smudge-resistant formula, flake resistant, sweat and humidity resistant. Remove with warm water and/or eye makeup remover.
Fullscreen Lash Mascara – accentuates and separates lashes with panoramic reach. A unique brush uses a specific mix of fibers to coat lashes from root to tip, delivering length and separation. Smudge proof, flake proof, wears all day.
Shutter Lash Mascara – delivers lofty lushness to lashes with a filmic effect. A customized dual-fiber brush helps to create a heavy, lofty look while soft fibers volumize with a luscious bang-effect. Smudge proof, flake proof, wears all day.
SHOP THIS POST