Hello beauties!
I'm back with another review and this time is about Swiss line Force Vitale Aqua-Vitale Serum 24 that is been part of my daily face routine for a while now. I've started using Swiss line products about 4 months ago when they first came to Romania thanks to BeautySenses the official distributor.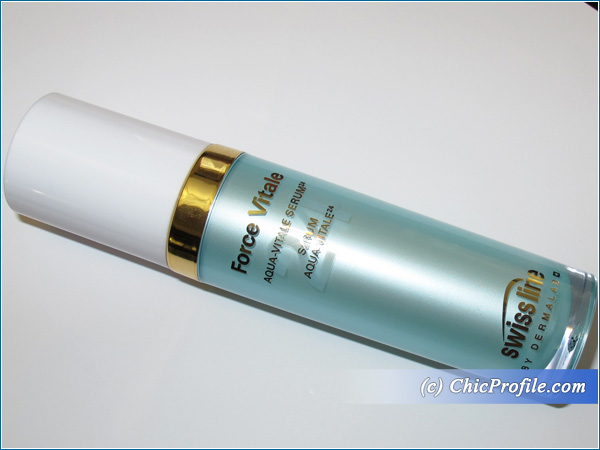 The product comes in a matte plastic light turquoise bottle with a pump that facilitates the application. The bottle has a white cap and a golden rim while it has embossed the name with the golden letters. I've always preferred cosmetics that come in a pump bottle as they are more easy to use and not to mention hygienic. For me one full pump of the Aqua Vitale Serum 24 is enough for one application.
Availability
Now @swissline.net
Swiss line Force Vitale Aqua-Vitale Serum 24 (600 Lei/ 172.80 CHF/ €140.00 for 30 ml/ 1 fl oz) is a face serum with a very light and fluid consistency almost water-like and it's easily absorbed by the skin. It has a white semi transparent color and it feels lightweight, non-greasy and non sticky.
It is applied smoothly while it revitalizes the skin and gives it an instant freshness and a natural glow. The fast-acting formula, containing powerful antioxidants, energy boosters, and hydration binders, relieves the discomfort of dryness, tones and  comforts the skin, while additionally improving radiance. While this serum is recommended to all skin types I tend to believe that those with dull or dry skin types will love it even more than my combination skin type did.
I love the way it's almost instantly absorbed into the skin and how smooth it feels, almost like rubbing pearls into my skin. It has an amazing smell, very discreet, something closer to flowers but combined with a feeling for freshness.
I use it two times per day, morning and evening, but those with dull, dry or very dry skin and perhaps normal as well if they feel like it could apply the Force Vitale Aqua-Vitale Serum 24 under their usual moisturizer for a plus of hydration. I personally feel more comfortable just using the serum on its own most times and the only product I like to combine it with is the Cell Shock Face Lifting Complex (upcoming review).
My skin feels hydrated and moisturized throughout the day, without feeling even a bit of dryness after 8 or 10 hours. This serum is perfect for those who are concerned with dehydration, lack of radiance or comfort of the skin. Because it feels so lightweight and it has such a liquidy formula you can paired it with your daily moisturizer or face cream after you let if for about 5 minutes on your skin to work its magic. Those of you with combination or oily skin type may want to use this serum on its own so you won't feel that your skin becomes oily or greasy during the day if you also add a face cream or moisturizer.
After a few hours of wearing the Swiss Line Force Vitale Aqua Vitale Serum 24 my complexion looked so luminous, hydrated and still fresh but I did noticed a shine on my T zone. I can't say it was oiliness or that my complexion started to look greasy but it was just a sheen on my T zone on those days when the weather was warmer. During the cold days I really enjoy how my complexion feels and behaves, looking so healthy. If you are living in a country with a cold climate I really recommend you using or at least testing this serum just once to see how it behaves no matter of your skin type.
Here is what you should know about the technology and ingredients of this product:
ALPINE BIO EXTRACTS: a host of concentrated organically grown Swiss Alpine plants: edelweiss, gentian coltsfoot and daisy flower, provide antioxidant, re-mineralizing, purifying and brightening properties.
AQUA-VITALE 24 COMPLEX: 24 different nutrients, including water binding agents, anti-fatigue plant extracts, energy boosters and trace elements promote healthy, replenished and hydrated skin.
Hydration Binders: A blend of salicornia plant extract, sodium hyaluronate, urea and sodium PCA impart excellent short and long term hydration by counteracting the TEWL and TEUL.
Energy Brighteners & Boosters: Chilean tree extract and licorice help lighten and even the complexion while anti-fatigue agents, stabilized vitamins A, C and PP, help to improve the texture and smoothness of the skin. Zinc, copper and magnesium help to stimulate cellular metabolism.
Powerful Antioxidants: Rice and pomegranate extracts with strong anti-free radical properties help to reduce oxidative stress on a cellular level (DNA protection).
SOFT-TOUCH POLYMER: this polymer crosses a dehydrated powder from red algae (Chondrus crispus) with a biotechnological polysaccharide-gel substantive to the skin, to create an aqua-porous protective film capable of delaying water loss while also naturally trapping water molecules. Immediately it makes even the most dehydrated skin silky and smooth to the touch.
I know this serum is on the expensive side as Swiss line is a luxury skincare brand but is it really up to you to decide what products you want to purchase and how you want your skin to look and feel like. If you do want to splurge or make an effort to buy this product I believe your will really enjoy the experience. In my case a full size 30 ml bottle will last me for about 6 months but those with dry or very dry skin types may finish the product a bit earlier as they will be using a bigger amount of product with each application. This products is recommended to women of any age and can be also considered as a intensive face treatment.
Enjoy more products…