Hello beauties!
Today I want to tell you all about Swiss Line Cell Shock Eye Zone Lifting Complex, a product I've tested and used for about 6 weeks this summer and I started using it again this week after I finally finished my other eye products that I got for review purposes. Cell Shock Eye Zone Lifting Complex is one of the products included in the big Cell Shock Collection and became available in my country just a couple of months ago along with the entire luxury anti-aging Swiss Line skincare brand which was brought in Romania by Beauty Senses.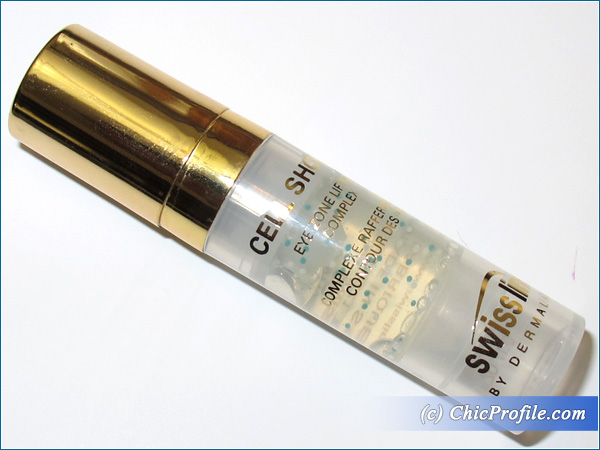 Availability
International  – Now @swissline.net
Romania – Now at BeautySenses
I received Cell Shock Eye Zone Lifting Complex (15 ml for 480 Lei/ 142 CHF) as a deluxe sample of 5 ml/ 0.17 fl oz which came in the same packaging (on a smaller scale of course) as the full size product. The plastic transparent bottle allowed me to see how much product is left inside and the pump is ideal for a easy application and not to mention that it makes it more hygienic too because the serums is not exposed to the air and dust every time you use it. The bottle has a golden rim and a golden cap and I want to say that in my case the packaging didn't suffer any changes or alteration during all the 6 weeks I used this product as I know some bloggers mentioned that this gold color faded or even started to chip in some places. I took this deluxe sample with me a couple of times when I traveled, even packed it in my suitcase and it remained the same.
It has been a while now since I have started using skincare products that came in a bottle with a pump just because it's easier and more hygienic but of course I can afford the luxury of skipping a rich face cream that comes in a jar just because I have a combination skin type. As I said in the beginning I used the Eye Zone Lifting Complex for about 6 weeks, morning and evening and I still have half of product left. For me a little goes a long way so I only needed a half of pump of product to apply on my eye zone.
As a combination skin type I always like to use serums or lotions when it comes to take care of my complexion and the Swiss Line Cell Shock Eye Zone Lifting Complex was a perfect match for me right from the beginning when I noticed this refreshing serum has a super light consistency, almost watery-like but feeling so smooth, soft and comfortable on the skin. It is absorbed almost instantly into the skin providing an immediate lift and a fresh look.
I'm in my early 30's so of course I demand more from an eye care product than just moisture and hydration so it seems that the Cell Shock Eye Zone Lifting Complex has me covered because it contains lots of key active ingredients which reduce fine lines and wrinkles, regenerate skin cells but also gradually tone and tighten the sensitive eye skin area. I have to admit I don't have puffiness and heavy black circles but a night with less sleep it gets noticed so this serum really did a good job because I did really noticed an immediate lift and a brighter and fresher eye zone while after a couple of hours my skin was looking more toned, incredibly smooth and soft.
I'm loving how the formula is absorbed immediately into the skin without leaving any shine and it feels so incredible lightweight and comfortable while all throughout the day my eye zone was moisturized and hydrated without feeling that my skin is dry or that uncomfortable tightening effect.
After less than 14 days I saw the first results, as my fine lines were noticeable diminished, skin was toned and looking healthier and brighter and even when I smile that crow's feet effect is way more reduced and those fine wrinkles were smooth and less visible.
I truly recommend the Swiss Line Cell Shock Eye Zone Lifting Complex to anyone who is concerned about wrinkles, fine lines, lack of resilience around the eye contour, lack of toned skin as this serum addresses to all women regardless of age, who are concerned about these problems. I can't say I noticed a significant change when it came to reducing puffiness as I'm sure this serum addresses more the anti-aging effects around the eye contour. I invite you to find out more about the technology in the lines bellow.
Technology
Cellactel 2 Complex: Skin-revitalizing ingredient combination that helps repair essential skin functions, lift and regenerate the skin.
Macro Encapsulated Green and White Unispheres: They release vitamins A, C and E onto the epidermis of the skin when the spheres are compressed during application.
Polysaccharide of marine origin (Macrocytis Pyrifera Extract): Provides immediate and sustained facial tightening. Smoothes the skin.
Polylift™ (network of polymerized sweet almond oil proteins): New botanical tensor that forms an elastic film on the surface of the skin, improving the micro-relief and smoothing of the skin there by diminishing fine lines and wrinkles.
Raffermine™ (Hydrolyzed Soy Flour): Extracted from plant membranes, this ingredient acts as an excellent booster for the contraction and reorganization of the collagen fibers. It also protects the elastin fibers due to its antielastasic action.
Moist 24™: A hydroglycolic extract of the Imperata Cylindrica (Red Baron) plant, rich in potassium and 3-dimethylsulphopropionate (DMSP). A unique moisturizing complex that actively helps maintain the osmotic equilibrium of the cells.
I know this is an expensive eye care product and not everyone will afford it but if you want to make an effort and buy it believe you will be satisfied with the results. I just started using the product I still have left inside the deluxe sample a couple of days ago and I'm sure it will last me another 6 weeks so the full size product which has 15 ml in my case will be enough for about 5-6 months.
Enjoy more photos…