Hello sweeties!
Swiss Line Ageless Purity 24 H Total Matte Solution (official info & photos) caught my attention since August with the Swiss Line products became available in my country trough Beauty Senses and because I have a combination skin type and one of my biggest concern is oil shine control I really wanted to see if this product is the real deal. My complexion has days when it looks flawless without any breakouts or blemishes but like every other combination skin type it has its bad days, but I don't have any acne scars or other sever skin problems.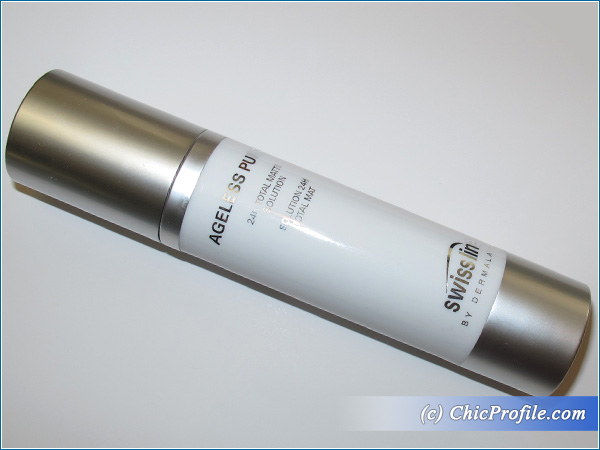 Talking about the packaging I must say this product comes in a white matte plastic bottle with a pump and has a silver cap. It doesn't allow you to see how much product is left inside and this is a disadvantage but I like the simple and classy packaging which suggests purity. The pump gives you total control over the amount of product you need for one application and for me it takes only one squeeze. It has a very nice and discreet smell, of something clean and fresh and I did distinguished a bit of apple fragrance.
Availability
International  – Now @swissline.net
Romania – Now at BeautySenses
Swiss Line Ageless Purity 24H Total Matte Solution (375 Lei/ 111.20 CHF for 50 ml/ 1.7 fl oz) is a 24-hour moisturizer, suitable for combination and oily skin types. It has a very light consistency, non-oily, non-greasy or sticky, that is easily absorbed by the skin making it smooth and soft while it minimizes the appearance of enlarged pores and gives your complexion a matte natural looking finish. This moisturizer has a white color with a hint of green which helps conceal redness. It feels incredibly lightweight and comfortable on the skin while it provides a long-lasting hydration.
It is applied so easily onto the skin, feeling so smooth and it gets absorbed almost instantly mattifying the skin and giving it a an instant fresh, radiant and healthier look. All throughout the day my skin felt moisturized and hydrated. I used Ageless Purity 20H Total Matte Solution morning and evening alone or after my Swiss Line Cell Shock Face Lifting Complex (upcoming review) for about two months. It also doubles as a face makeup primer as it prepares the skin and allows an easier application of makeup and longer lasting power.
I used this product during the hot days of summer and I started using it again now (I took a break because I had to test other skincare products) so I must say it behaves differently regarding oil control. During the summer when I applied the 24 H Total Matte Solution my complexion looked mattified for almost 3 to 4 hours before I started noticing the shine in my T-zone. It wasn't oiliness but it was a shine that I couldn't ignore so I used my Oil Control Papers that I take with me in my purse all the time. When the cold weather came I was anxious to wear this moisturizer again and see the effects but the shine kept coming after a couple of hours. This is just how this product works alone, it keeps oiliness under control but my complexion revealed a shine nonetheless after some time. I wanted to keep that matte finish on my skin throughout the day and then I decided to use it in combination with 24 H Total Matte Solution with the Ageless Purity Purifying Enzymatic Mask (75 ml for 280 Lei) (upcoming review). The result was amazing and now I understand why these 2 products are meant to be used together. Once I started using the mask (2 times per week) I noticed my complexion was looking mattified all day long without even the slightest shine on my T-zone. I will be definitely buying and using these 2 products together from now on.
Here is what you should know about the key ingredients used to create this product.
Technology
Matte-Detox Complex: Extract from an African tree (Enantia chlorantha) with extraordinary anti-inflammatory properties, in synergy with oleanolic acid and rosemary extract which regulate the activity of over-active and inflamed sebaceous glands.
Microporous Captors: A combination of a high-tech polymer and nylon microfibers that only target oil, leaving water on the surface.
Apple Extract and a Biotechnological Cell-Booster: Support a healthy, natural exfoliation rhythm, avoiding the hardening or stiffening of keratin. The cell-booster and apple extract increase the freshness and radiance of the skin; boosting oxygen supply to the cells counteracting the characteristic "dull" complexion of oily skin types
Olive Tree Leaves: Rich in Oleuropein, helps to fight free radicals, improve elasticity and moisturization, while also maintaining photo-protective properties. It is claimed that Oleuropein preparations also strengthen the immune system.
I know this product has a price on the expensive side and not many will afford to spend this much but for those of you who are willing to spoil yourself or make an effort I will totally think you will love to try this product. Please consider to use the Purifying Enzymatic Mask as well or any other purifying mask to maximize the effects of this moisturizer.
Enjoy more photos…