Hello sweeties!
As soon as I heard about the launch of the new BECCA Royal Glow Shimmering Skin Perfector Pressed Highlighter I was thinking if I should buy it. I contemplated this decision for less than an hour and then I placed my order. I got it from John Lewis as they also offered a free BECCA Glow Queen canvas tote bag. You saw me wearing the new Royal Glow yesterday on Instagram.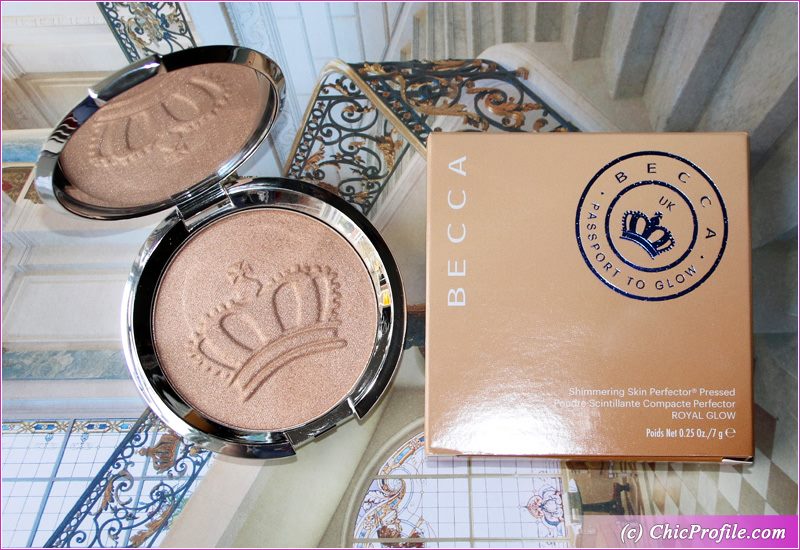 Where to buy:
U.S. Launch Date – Now at QVC (best price $34.98 instead of $38.00) soon at Beautylish
UK Launch Date – Now at Cult Beauty, John Lewis
BECCA Royal Glow Shimmering Skin Perfector Pressed Highlighter Review
BECCA Royal Glow Shimmering Skin Perfector Pressed Highlighter ($38.00 / £30.00 for 0.25 oz / 7 g) is officially described as warm golden honey infused with pink pearl. It's a light-medium golden beige with warm undertones and a fine pink shimmer with a bit of glitter.
It's a limited edition release shade embossed with a crown which really gives it a more elegant touch. The color is pigmented, easily buildable for a more intense finish. If you haven't tried a BECCA highlighter yet, you should know they are quite pigmented and deliver an intense glow. On the other hand you can also apply them with a light hand and get a soft focus.
I see this shade suitable for any skin color. If you are medium or dark, you'll definitely want to add a few layers and make the color pop. It can give you a super intense shine so it's totally up to you. If you have a light skin like me, you'll probably want to stop after the first layer. I'm personally looking for a glow, but not too intense so for me one layer of Royal Glow is perfect.
The texture is very soft and smooth and gets applied easily and evenly across the skin. It looks wonderful and adheres well even on bare skin. It doesn't emphasizes my skin texture or pores and this is a plus for my combo skin.
A little goes a long way with this shade as it's pigmented so you don't have to use too much. It wore well on me for eight and a half hours.
BECCA Royal Glow Makeup Look and Live Swatches
Today on my Instastories I posted a live swatch of BECCA Royal Glow highlighter. Unfortunately we had a casual, rainy London day so the light was not great. I wished for a bit of sun so I can take some proper photos, but no luck today. I still wanted to show you how beautiful this shade sparkles. Yesterday you saw me wearing BECCA Royal Glow on my cheeks when I did a Huda Beauty Coral and Gemstone Obsessions makeup look.
Just a few moments ago I posted more photos and a live swatch on Instagram for those who probably missed my Instastories. I applied the color very gently, in just one layer. Because my eye makeup was really intense, I wasn't looking for super glowing cheeks. If you keep an eye on my Instagram you will see me featuring BECCA Royal Glow highlighter in my upcoming looks.
SHOP THIS POST