Hello beauties!
Skinfood Black Sugar Mask Wash Off is a Korean product that was sent to me by Sorabelle and you know my passion for Korean makeup but when it comes to their skincare products, I feel like we are talking about the Holy Grail. Skinfood Black Sugar Mask Wash Off is already a star among Korean skincare products, one of the best as reviewed by many bloggers and Youtubers out there so you can imagine I was super excited when I finally got to try it myself, and not as a sample as many had but as a full size product.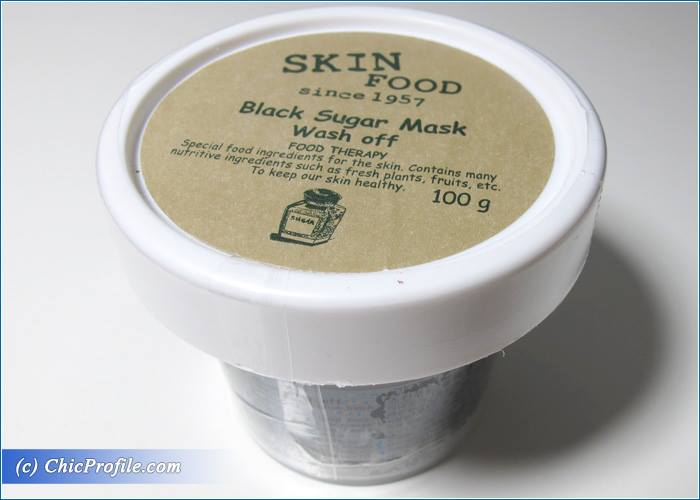 Where to buy:
U.S. – now online @sokoglam.com, Amazon
Skinfood Black Sugar Mask Wash Off ($14.70 for 100 g) is an exfoliating facial scrub that comes in a vintage plastic jar and once it opens it will reveal a plastic lid, underneath which you will find the product. It has a very thick consistency, definitely brown sugar mixture with a strong smell of leaves and citrus as well. 
You can actually feel the sugar grains to the touch, when you apply the product so it will definitely going to give you quite an exfoliation, that's why in case you have sensitive skin like me you should always use it on wet or damp skin. I personally prefer to use this while I'm in the shower, when my face is wet and I can gently apply it and rub it on my complexion. The sugar grains are an excellent manual exfoliator and they are dissolved quickly as I massage it gently on my face, so they won't cause too much damage from over exfoliating. At first when I felt its thick consistency I was skeptical if this would really work on me and not be too harsh and I was worried about over exfoliating, but after the first use, when I saw the results and how well my skin looked like…I made it a permanent product of my skincare routine.
It gives you quite an exfoliation, removing death skin, black heads so your skin will look more luminous, fresh, healthier and younger. After using Skinfood Black Sugar Mask Wash Off my skin always feels so smooth and soft but also hydrated as I like to apply the mask and let it on my face for a couple of minutes while I shower and wash my hair.
The mask doesn't come with a spatula or a spoon so if you have one I would recommend you using it, or other wise just use your fingers. It is a rinse off mask, more like a scrub and a mask, 2-in-1 product which will improve your skin condition. The formula also contains Shea Butter extract which nourishes and moisturizes the skin but also Meadowfoam Seed oil which work as a powerful natural antioxidants, preventing skin from aging.
This wash-off mask gently removes impurities, excess oil, grime and exfoliates your skin to a baby-soft complexion. After using it my skin doesn't feel greasy or sticky, it doesn't look shiny, on the contrary I feel like it keeps the shine away for a few good hours. As I said I have a combination but sensitive skin type and I like to use this mask twice a week. It doesn't make my skin feel dry and I never got any irritation after using this mask so it is suitable for all skin types, even for the most sensitive ones if you do apply it with care.
You should also keep on eye on Sorabelle Instagram account for more Korean beauty products.
Enjoy more photos…