Hello pretties!
As a combination skin type I have to say that serums will never miss from my skincare routine so when I saw Elizabeth Arden Flawless Future Serum Capsules I knew we'll get along right from the start. Well you see…this is an unique serum…only a first look will reveal these amazing white-silver pearls that will instantly give your complexion luminosity and freshness. This product became a constant in my daily skincare routine, as I love to apply it in the morning for a fresh, glowing and healthier looking skin, not to mention it always helps hiding signs of fatigue when I didn't get a good night sleep.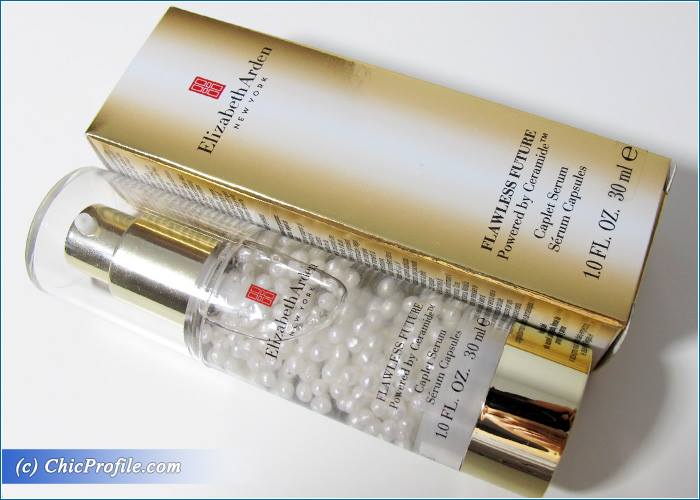 Where to buy:
Romania – Now at Kendra, Prestige Boutique and online @boutique-produsecosmetice.ro
U.S. – Now online @elizabetharden.com
Elizabeth Arden Flawless Future Serum Capsules ($60.00 / 179.00 Lei for 30 ml / 1.0 fl oz) is a liquid serum with  caplet mini-beads activates when dispensed, providing a refreshing burst that initially clings to skin then dries to a smooth weightless finish. It comes in this solid transparent plastic bottle with a golden pump which facilitates the application. You can see the tiny pearls floating inside in this light jelly formula so for me, everytime I use this serum is like applying pearls onto my skin.
It instantly moisturizes my skin, rejuvenates my look and I feel my skin more energized, fresh and younger. It sinks right away into the skin feeling lightweight, without feeling greasy or sticky at all and it doesn't look shiny or oily. It also doubles as a makeup primer, that is if you like a base with a luminous effect which I sometimes do need even if I'm a combo skin type. When my face looks tired, dull or lacks freshness and a healthy glow I usually apply MustaeV Lustrous Cream Base (review, swatches, photos) but Elizabeth Arden Flawless Future Serum Capsules gives me a more softer and lighter glow. After I apply the serum on my face I can actually see how the sparkling silvery particles give my complexion such a radiant look, it's just instant freshness and luminosity.
This serum also helps reinforce skin's essential moisture barrier, even skin tone, retexturize, and reduce the appearance of early signs of wrinkles. Rejuvenates the look of tired skin for a more energized complexion.
I absolutely adore it and it's the kind of face serum that will work great on any complexions, from dry to oily. I usually like to wear in the morning but there were enough times when I reached out for it in the evening and especially whenever I wanted to change my day time makeup with a more dramatic, night time appropriate look and I needed my complexion to look just as fresh as it was in the morning.
Enjoy more photos…