Hello pretties!
This Spring Shu Uemura presents its new Petal Skin Cushion Foundation. This is a follow up of their Petal Skin Fluid Foundation released last Spring. The new cushion foundation gives that natural gloss and transparency to the skin. It smooths away skin imperfections and leaves your complexion looking beautiful as a petal.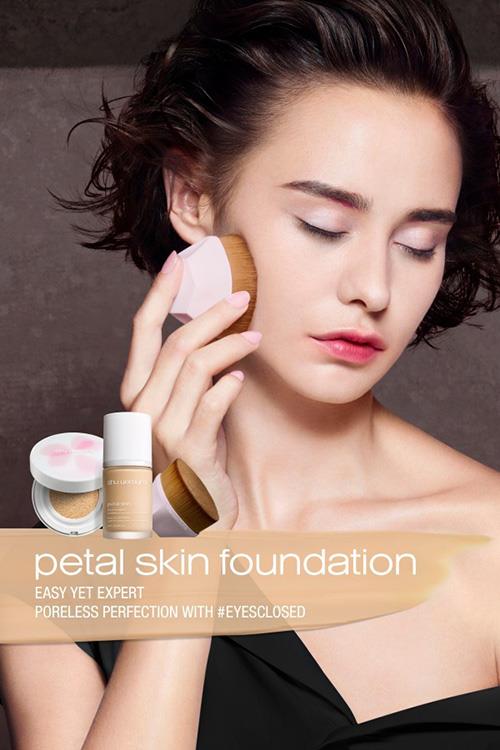 Availability
Japan Launch Date – 1 March 2018
Shu Uemura Petal Skin Cushion Foundation Spring 2018
This new cushion foundation was developed as a makeup base pursuing "petal skin". The secret that leads to beautiful skin is the petal skin technology with ingredients such as cherry blossom petals. These petals last for only 1 or 2 weeks in a year and cherry salmon extract from sake cake fermented by cherry yeast are prepared to make a think veil of the skin surface.
Women suffering from oily skin and pore troubles (count me in) can feel a smooth finish and a smooth skin thanks to the ingredients that absorb sebum excess and care ingredients targeting the pores.
Petal 55 Foundation Brush in Pink will be released on the same day in a limited edition. This brush will help you buff in the foundation and get that smooth skin. Don't worry about your foundation moving around because of this brush, it is the best way to work the new Petal Skin Cushion Foundation in your skin. The unique puff of 4 layers makes the application so much better and extends the product. Even with a small amount of foundation this brush will uniform your skin, covering small skin imperfections.
Shu Uemura Petal Skin Cushion Foundation will be available in eight shades.
Enjoy more photos…