Hello beauties!
I'm so happy that my package with the new Senna Do You Dare? Holiday 2013 Collection (official info & promo photos) arrived two days ago and I have time to show swatches and photos right before Christmas. It is a small collection, a special edition release for the Holidays and it features only six makeup products, basically your essentials items to create a glamorous and chic makeup look.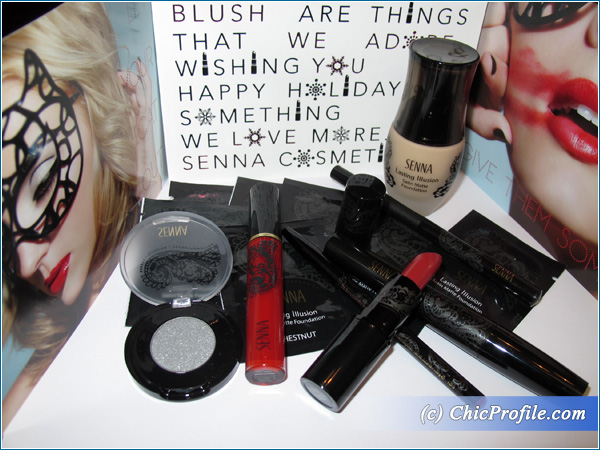 Availability
Now @sennacosmetics.com
Somehow I know this collection is pretty simple and it doesn't give you the possibility to play with different colors and textures so you can create several makeup looks for Christmas dinner or New Year's Eve party but it contains the go to products you need to achieve a classy, yet glamorous look, something like a cat eye, or a natural sparkling eye with a bright bold red lip.
I will be reviewing each of these products separately in the days to come but most definitely I will not be able to review them all before Christmas.
Yesterday I've worn the Venetian Red Cream Lipstick ($20.00) which is a flame red color, very pigmented and bright. It looks really intense on me, but I have a fair skin so I'm usually shy when it comes to such pigmented red shades. This color will look lovely on those with medium and darker skin tones, but if you have a light skin and you are not afraid to wear a bold lip you should definitely give this color a try.
Two days ago I worn Maraschino Lip Lacquer ($20.00) at a beauty event and I was so pleasantly surprise to see how well it looked on me, because it's not so bright on the lips like it appears in the tube and those with fair skin like me will definitely be able to wear this shade.
Yesterday I also tested the Black Volumizing Mascara ($20.00) and I'm currently wearing it, because I stayed up all night to write on the blog and right before I begin to post this article I took photos to show you in my upcoming review how beautiful my lashes look after 12 hours of wearing this product.
The Crimson Lip Liner ($18.00) is a classic red which looks really pigmented when I swatch it earlier on my arm. I will be testing it tomorrow and give you more details in my upcoming review.
The Black Pinpoint Micro Tip Eyeliner ($20.00) has a very fine tip and glides easily across the eyelid offering a high color payoff. I'm not great at all when it comes to applying eyeliner and I always tend to keep my distance when it comes to this kind of product but I tried it a little bit yesterday and I was amazed how easy it seemed. I will be definitely test it again in the days to come and post a makeup look so you can see how "skillful" I'm with eyeliner.
I let the Silver Lining Eye Color ($18.00) at the end just because I played with it yesterday when I swatched it and took photos and my first impression is that it could have been a bit more pigmented. It looks so very sheer when it's applied without a primer so I tried spraying my brush with MAC Fix + and swatching it again. You can see the different in the photo bellow as the color is not that sheer once it's applied wet but definitely the best way to use this eyeshadow is over an eyeshadow primer. It does have sparkling silver particles and I had a bit of fallout but I shall test it again a few times before coming up with a full review.
Enjoy more photos…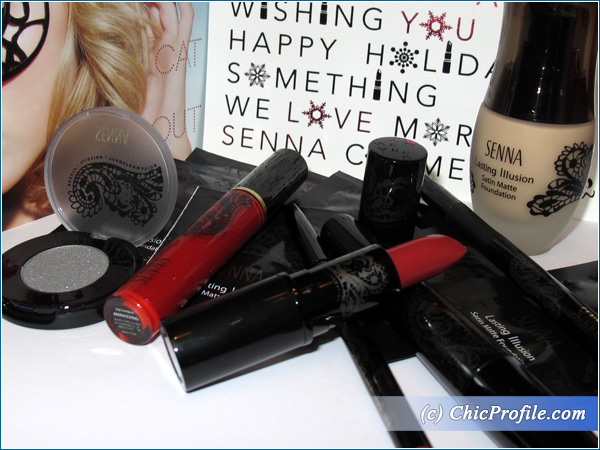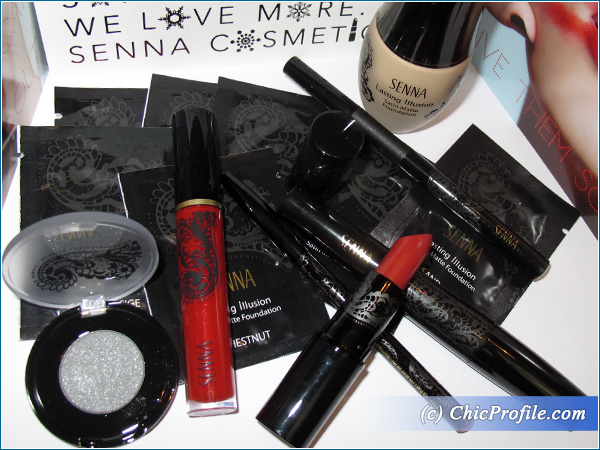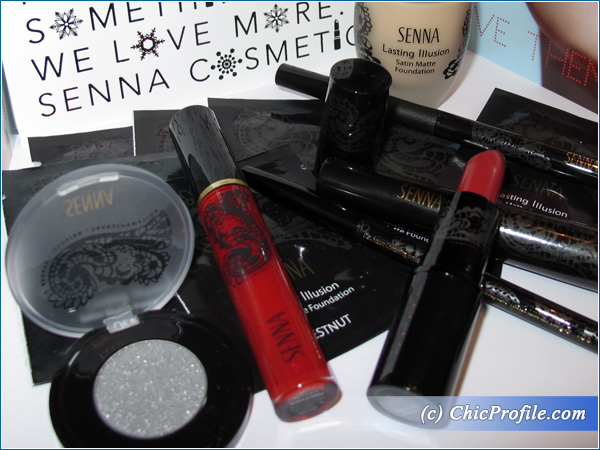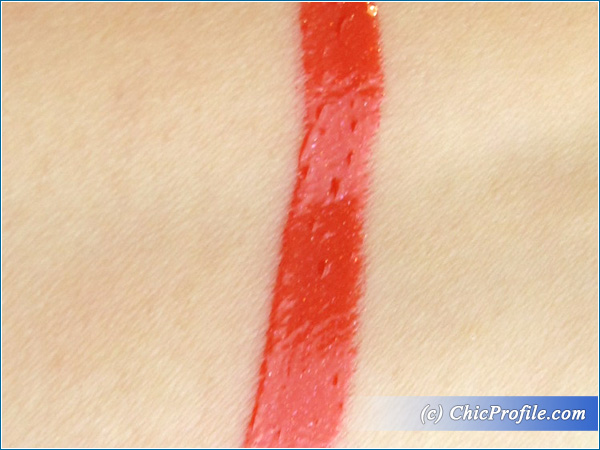 Senna Maraschino Lip Lacquer Swatch
Senna Venetian Red Cream Lipstick Swatch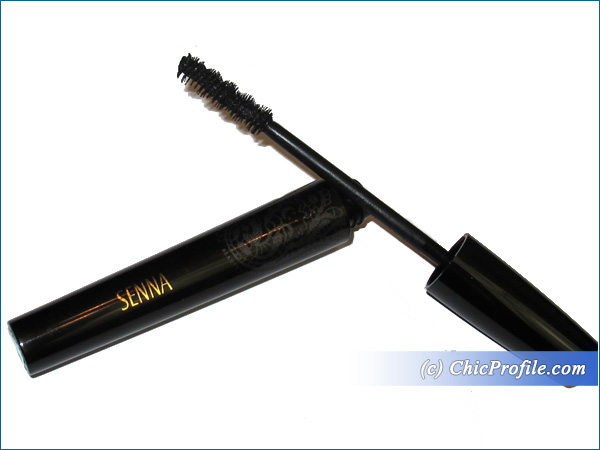 Senna Volumizing Mascara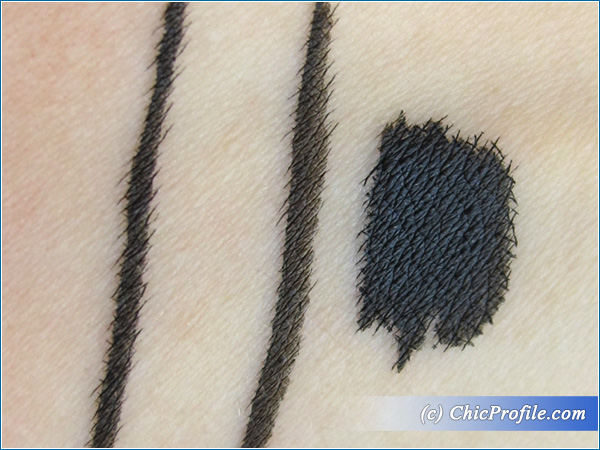 Senna Pinpoint Micro Tip Eyeliner Swatches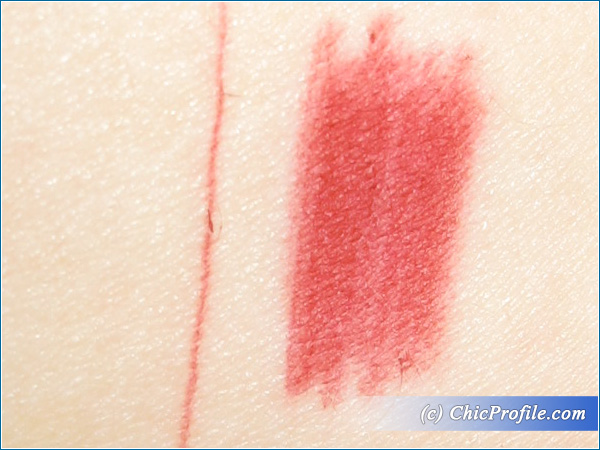 Senna Crimson Lip Liner Swatch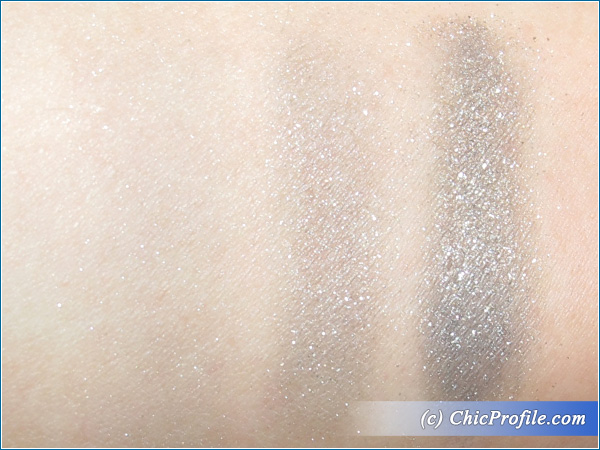 Senna Silver Lining Eye Color Swatches from Left to Right: No.1 without primer | No.2 used wet without primer | No.3 over an eyeshadow primer
I hope you enjoyed this preview and a first impression for this collection. Individual reviews will follow in the days to come but in the meantime I would love to read your opinion as well. 🙂