Hello beauties!
I know I'm a bit late with this review of Senna Dawn Brilliant Bronze as this product is part of Senna Sunglow Collection Summer 2013 (photos & swatches) but between my vacation, problems with the blog when I changed the theme and the catching up I had to do afterwards there was little time left for reviews.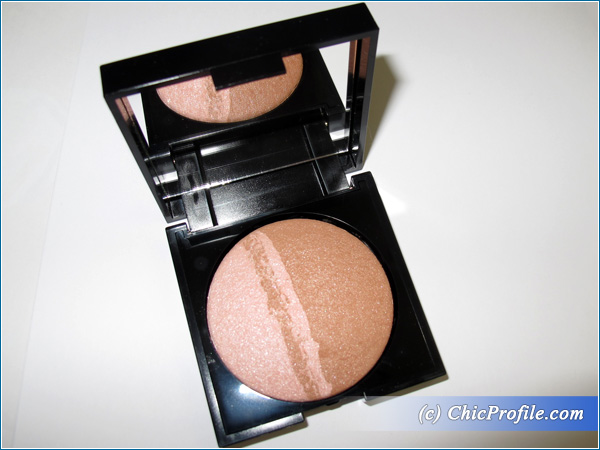 This featherweight baked mineral powder kisses skin with the sheerest touch of radiant warmth and illumination. The shimmering bronzer can be worn very sheer or layered on for a deep sunny tan while remaining totally natural looking. The brightening highlighter makes skin look luminous. This delicate mineral veil contains specially cultivated fresh water pearls with amino acids and proteins to hydrate and nourish skin, keeping it luxuriously soft and smooth. Each bronzer pattern is hand drawn and baked on terracotta for a rich one-of-a-kind beauty. Free of oils, talc, fragrance and parabens.
Availability
Now @sennacosmetics.com
Senna Dawn Brilliant Bronze ($42.00 for 0.20 oz/ 5.9 g) is a Baked Mineral Bronzer in a beautiful light bronze and a Highlighter in seashell pink shade. As a light skin tone I found the Dawn Brilliant Bronze was a perfect match for me but it can also be used by those with medium skin colors as both the bronzer and highlighter shades are easily buildable.
I almost never use bronzers but I particularly liked this shade because it is applied in a such a sheer color, allowing me to build it up until I got the desired intensity. It gave me a natural sun kissed look without being too much while the light pink shade highlighted my cheeks and added a bit of luminosity. The highlighter has also a bit of shimmer to it so you have to be careful not to apply to much at once.
These two colors can be used separately but also blended together if you want. They have a soft texture, maybe just a little bit powdery but apply smoothly and easily across the skin. They have a good staying powder but during those hot summer days and considering I have a combination skin type I felt the need to reapply the shade over 4 hours.
Now talking about the packaging, here I have to confess that I was quite impressed how elegant looked it. Senna did a really good job with the shiny black compact and I'm not talking only about the design and elegant style but also because the black case is very easy to use and inside it has quite a big mirror included that comes in hand when you want to retouch your makeup. I took it with me in my purse almost all summer long and even in my luggage when I traveled as it easily fit in every purse.
Enjoy more photos…