Hello beauties!
Rouge Bunny Rouge launched two new shades of Witchery Modelling and Ubiquitous Magnitude mascaras in the beginning of summer. Is no secret now that I've been playing with the new Rouge Bunny Rouge Witchery Modelling Mascara in #098 Red Nightfall for a while now so here comes my review. RBR Witchery Modelling Mascara comes in three permanent shades: Midnight (intensive black), Golden Darkness (warm, dark brown) and the deep wine shade that I'm showing you today.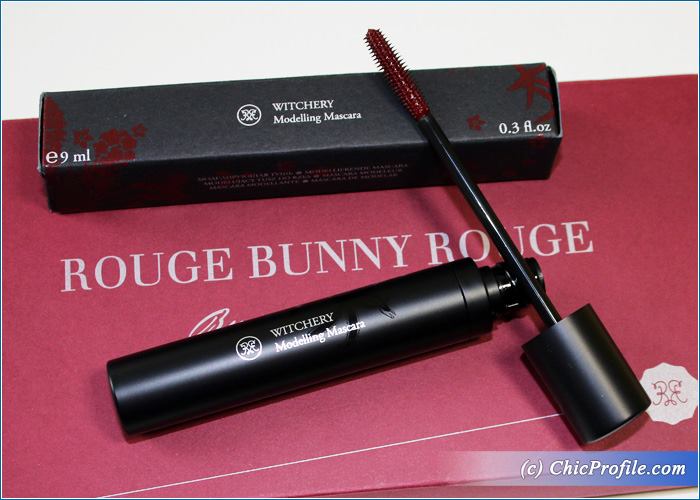 Where to buy:
International – NOW online @rougebunnyrouge.com Use RBR-CHICPROFILE20 code to receive 20% discount at RBR boutique
Rouge Bunny Rouge Witchery Modelling Mascara Review
RBR Modelling Mascara Witchery in #098 Red Nightfall ($30.00 / €29.00 for 9 ml / 0.30 fl oz) is a medium-deep wine red, leaning more towards a burgundy tone. It's indeed a shade that I wouldn't see myself wearing too often but intriguing nonetheless. Not everyone will feel comfortable wearing a deep red mascara shade but it doesn't hurt to try it and see how it looks on you.
I admit it really does complement my green eyes and gives a more intense look but RBR promises this shade is for everyone. You can see in the photos bellow that is not actually a very vibrant shade that will scream red mascara from the distance, but just a different touch of color.
The formula is lightweight and embellishes your lashes with such ease. This is where the name Witchery comes from.
It comes in a black, thick tube with a innovative rubber brush that gives the most accurate and impeccable lash-by-lash application. It does a great job separating my eyelashes without clumping or smudging. To tell you the truth I do like RBR Witchery Modelling Mascara more than the Magnitude Mascara only because of its brush. I do like to apply one coat of Modelling Mascara and the follow up with another coat of Magnitude Mascara.
The brush tip allows me to reach even my finest and shortest lashes in the corners of the eyes. The formula is based on extra pure pigments and softest blends of natural waxes, keratin, and conditioning ingredients. It doesn't contain Triethanolamine, silicone, fragrance and alcohol.
It keeps my lashes in place for the entire day without flaking or clumping. 🙂
I will be back with the review for RBR Ubiquitous Magnitude Mascara in #099 Ruby in the following days.
Enjoy more photos…