Hello beauties!
Earlier on Instagram I shared with you my excitement for the new Rouge Bunny Rouge spring 2016 makeup products that I got today. I was so anxious to begin swatching and testing them right away, that I made this quick video to show you how beautiful and exquisite these products come packed. I had my eyes on RBR Raw Garden Eyeshadow Palette in Antigo since I posted about RBR Spring 2016 Makeup Collection (info, photos) and now that I finally get to hold it, I feel like a dream came true.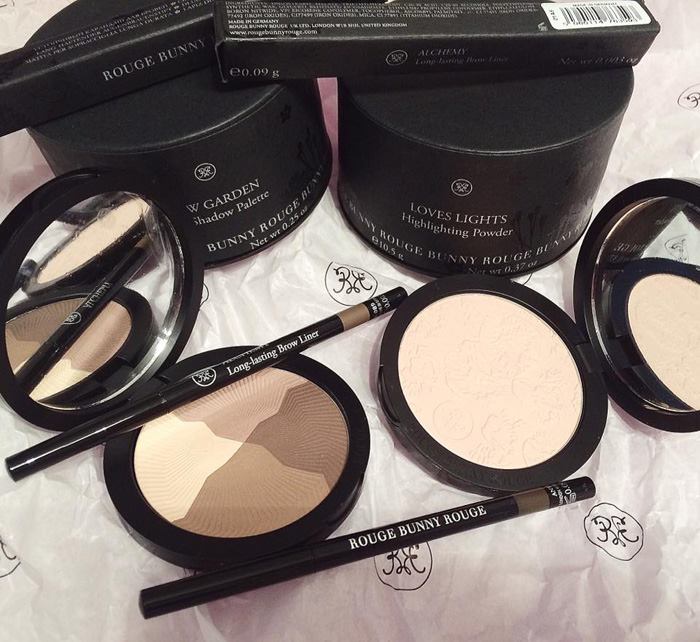 Where to buy:
International – Now online @rougebunnyrouge.com RBR-CHICPROFILE20 code to receive 20% discount at RBR boutique, @zuneta.com, @beautyhabit.com
The packaging has always been exquisite when it came to RBR, not luxurious or glamorous if that's what you are thinking, but something unique and with a twist.
Both Rouge Bunny Rouge Eye Shadow Palette (€49.00) and Highlighting Powder (€45.00) came packed in this rounded black cardboard box with all the details printed on the packaging and when I got to lift up the black top I found the actual palettes which came in these shiny black plastic cases with a mirror encased.
They are so beautiful and precious to look at, that it pains me to even swatch them. Rouge Bunny Rouge Goddess Highlighting Powder is an absolute beauty,  a high-lustre, piano black case with a magnetic lid, packaged in a matt box with glossy floral print. It has been reformulated for triple anti-aging benefits, so this powder is more than just a beauty item for your makeup collection. It was enriched with exquisite anti-aging benefits for a firmer and healthier skin, feels like a gossamer sweep of creamy silk. The powder's miraculous "blurring" finish and smoothing effect instantly transform your complexion – your personal secret to perfect, clear, porcelain-like skin.
I set my eyes on RBR Antigo Eye Shadow Palette for a few months now and I absolutely adore not only the pattern but the universally flattering, natural neutrals with a formula that delivers a sense of transparency despite the intense pigmentation. Here are the shades with a more detailed description until I will provide swatches and a full review.
A very light, yellow-tinged neutral vanilla cream beige; the ideal base to even out your skin tone and add highlights
A medium, cool taupe with a hint of pink
A medium, true "café latte" brown taupe
A dark, rich, powdery chocolate brown
Another newness that is suppose to launch this season is represented by Rouge Bunny Rouge Alchemy Long-Lasting Brow Liner (0.09 g / 0.003 oz). I actually got two shades to try out, 089 Trona and 088 Antimony. I actually got to try out the first shade right away and for me a as blonde with a light skin, this one was a perfect match for me. I don't have a price for this product yet but I will update with more info very soon. The RBR Brow liners are very slim and slick, they don't need sharpening as they are mechanic and they have a very thin mine that allows for an easy precise application. It's so easy to create a crisp line if you want to go for the more defined brow look. Give me a couple of days to try out more of these shades before I'll return with a full review.
Enjoy more photos…