Hello lovelies!
I'm excited over a new shade of Catrice Luminous Lips Lipstick, a formula that I recently discovered and got to love. It's a beautiful lipstick which provides the shine of a gloss without being sticky and gives a flush and vibrant color. It will change the natural color of your lips but not all the shades look completely opaque.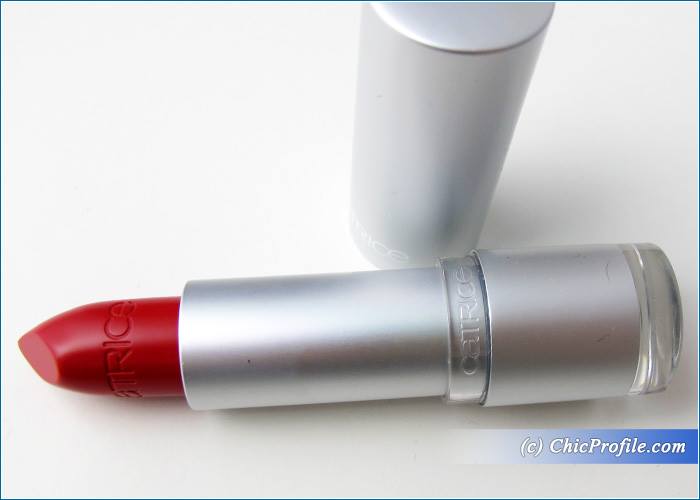 Where to buy:
Romania – Now @boutique-produsecosmetice.ro, @emag.ro and local drugstores like Prestige Boutique (blv Iuliu Maniu, nr.59 Bucuresti)
International – Now @kosmetik4less.de
Catrice Read Me A Cherrytale (160) Luminous Lips Lipstick (€3.95 / 19.50 Lei for 3.5 g / 0.12 oz) is a light to medium cherry red with warm undertones and a shiny finish. The color is vibrant, fresh, shiny and appealing but with a medium coverage and a shiny finish which offers a luminous finish.
I'm already familiar with Catrice Luminous Lips lispticks formula so I couldn't wait to try out a new shade. I told you the other week that I recently purchase new Catrice items and among them The Wizard Luminous Lips Lipstick (review, swatches) a gorgeous shade that I'm wearing pretty often.
The consistency is creamy but very lightweight, almost like a gel and feels so comfortable on the lips. It makes lips appear fresh, plumped, vivid and smooth. It makes lips appear fuller due to the luminous and shiny finish. It doesn't sink into lip lines, it doesn't emphasizes them…it is' almost like a gloss but without feeling sticky at all.
It's the kind of red shade that is very forgiving with light and pale skin tones, especially since it has a warm undertone and it will instantly warm up your face. It's a pretty color for a daytime use and can be applied on top of a lip liner for a more lasting color.
The packaging is simple, a silver gray plastic case that closes easily, very easy to hold and open.
I got about 5 hours wear out of this color and when the color wore away completely it left an even stain. My lips felt soft and moisturized from beginning to end.
Enjoy more photos…