Hello beauties!
This week I got a bunch of new products from Rouge Bunny Rouge which includes nude lip shades and lip colors and three sample size fragrances from their new Discovery Coffret Fragrance Sampling Set (info, photos). Who doesn't love to wear nude and naturals as a go-to color for an everyday makeup and especially know when fall is almost knocking at the door, we tend to look for browns, beiges and more earthy tones.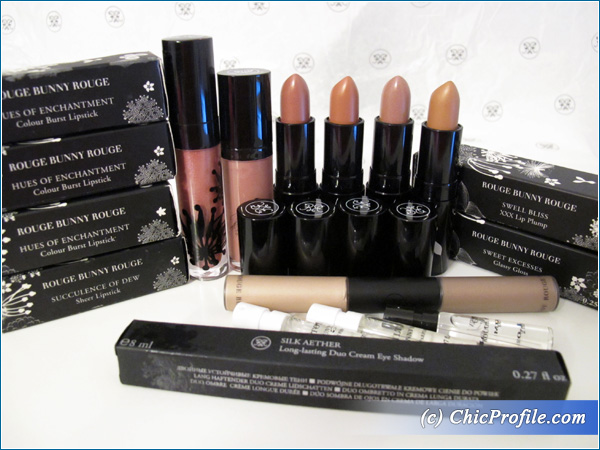 Availability
Now online at @rougebunnyrouge.com
I got three shades of RBR Hues Of Enchantement Colour Burst Lipstick (€28.00 / £19.82 for 3.8 g /0.13 oz) which has a weightless, moisturizing formula and gets applied easily on the lips. I've swatched #009 Nothing Unknown, #026 Unrestricted and #027 Irreverence the other day and I'll be reviewing each shade separately in the days to come as I already wore the first shade on my lips yesterday. The last two shades are so similar that is so hard to tell them apart, but I'm hoping that on the lips they will look different. I love they way they apply, the glide on so smoothly, delivering a good amount of color, truly the perfect nudes for the upcoming fall 2015 season.
I don't know if you remember but a couple of years ago I got RBR Succulence of Dew Sheer Lipstick in Perfume of His Gaze (€28.00 / £19.82 for 3.8 g /0.13 oz) (review, lip swatches). This was such an amazing lipstick and even though the formula was described as sheer it still changed my natural lip color, not to mention how moisturizing it felt and my kept my lips hydrated the entire day.
As a lip gloss kinda girl I was happy to discover RBR Swell Bliss XX Lip Plump in #083 Clover Royal Jelly (€29.00 / £20.53 for 5.5 ml /0.19 fl oz) a medium milky pink rosewood with cool undertones and silver micro-shimmer. I actually wore this shade last night so a new makeup tutorial is coming up next week along with an individual review and lip swatches. I was surprised to see that when I got back home after 4 hours I still have color on my lips and nice glossy finish, considering I was out drinking with my friends.
I'm already familiar with RBR Sweet Excess Glassy Gloss (£19.82/ €28.00 for 7.5 ml / 0.254 fl oz) formula as I already own and reviewed #055 Crisp Sorbet so today I'm wearing the new #056 Fleur Parfait shade and I'll be able to tell you more about it in the upcoming days.
I saved the best for last and that is the new RBR Silk Aether Long-Lasting Duo Cream Eye Shadow (8 ml / 0.27 fl oz) which has an incredible creamy and smooth formula which glides effortlessly onto the skin and delivers a pigmented gold and brown shades. I haven't wore this yet, just swatched the colors the other day, so until I'll wear it I can't tell you more about its performances. I especially love the packaging and when I first saw it, something in my mind really made me pair it with a Giorgio Armani product. It has a slick packaging, easy to hold and looks so elegant and simple.
Enjoy more photos…