Hello sweeties!
Now since I'm all settled in my new place in London it's about time to start sharing with you my thoughts and reviews about the products I've been using for the last couple of weeks (OK, maybe even months). 🙂 Rouge Bunny Rouge has released earlier two new wine red shades for their Modelling and Magnitude Mascaras. I now how a red mascara must sound like and I was a bit skeptical in trying them out myself in the beginning but wait until you'll see those before and after photos and how flattering the wine red shade looks paired with my green eyes.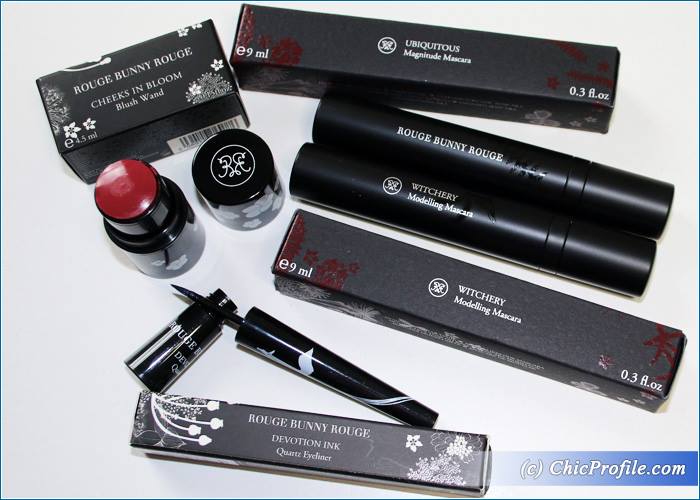 Where to buy:
International Launch Date – NOW online @rougebunnyrouge.com Use RBR-CHICPROFILE20 code to receive 20% discount at RBR boutique 
The truth is that I'm not talking about a bright red shade that could scare you off instantly when you apply it, but about a wine red that oscillating between a vivid burgundy and elegant cordovan. It suits all skin tones and it will look flattering to any eye color.
RBR Modelling Mascara Witchery in #098 Red Nightfall ($30.00 / €29.00) got into my heart from the first application because of its innovative rubber brush that allows for the most accurate and impeccable lash-by-lash-application. It's so easy to get long and well defined eyelashes in just one swipe. You can read more about it HERE and you can also choose between the other two shades: Midnight and Golden Darkness. I'm definitely excited to post my review about this one so you can see in the before and after photos, exactly what I'm talking about.
RBR Ubiquitous Magnitude Mascara in #099 Ruby ($30.00 / €29.00) is all about lengthening and thickening your lashes thanks to its dense fibre brush which gives you that bold effect. I actually used this one for my evening looks as it ads more drama to my eyelashes than the Modelling Mascara. My review will follow up shortly.
RBR Cheeks in Bloom Blush Wand in #018 Rubens ($31.00 / €31.00) is a semi-transparent, medium sangria, with ice that goes well on cool, medium and darker skin tones. I have to admit this one is a bit too much for my fair complexion even though I like the shade. It has three more shades to choose from if you like a cream-to-powder finish and appreciate the formula which is enriched with a blend of natural oils. It's super easy to apply and blend with your fingers and can be layered on for intensity. I might try to use it on my cheeks with a very light hand and blend it more, but I'm definitely going to use it on my lips for an ultra-sheer comfortable color.
RBR Devotion Ink Quartz Eyeliner in #051 Tanzanite Essence ($30.00 / €28.00) is a toned down medium blue, ablaze with opalescent sparkle. It's just one of the four shades available and since I'm quite familiar with RBR Eyeliners I don't know if you remember that I also reviewed Tiger Eye Essence Eyeliner shade. It has an elegant brush which means that you can apply both fine thin lines and passionate wide lines. A deep, wine red mascara paired with a blue eyeliner….hmmm this really sounds like a fun look to try.
Enjoy more photos…