Hello beauties!
Rouge Bunny Rouge unveiled its new Fall 2016 Makeup Collection as I showed you a while back on Instagram. I have a special love for Rouge Bunny Rouge products as I've been with brand from the beginning, trying out most of their products and easily but surely getting to love and depend on them. It's true that they don't release as many new products as other brands, but when they do it's pure quality in a high end packaging.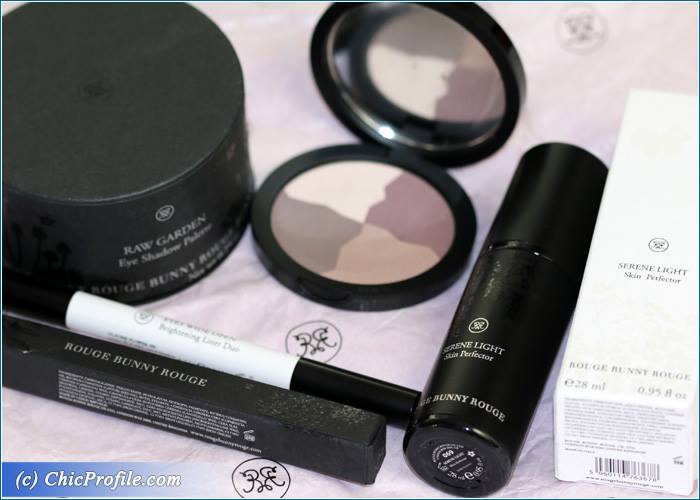 Availability
International Launch Date – Now @rougebunnyrouge.com RBR-CHICPROFILE20 code to receive 20% discount at RBR boutique, @zuneta.com, @beautyhabit.com 
Rouge Bunny Rouge Fall 2016 Collection
One of the newness for fall 2016 season is RBR Skin Perfector Serene Light (€53.00 / $50.00 for 28 ml / 0.95 fl oz) a weightless and velvety soft, tinted primer that will enhance the appearance of your complexion. I used this a couple of times already so watch out for my upcoming review. Just to tease you a little bit I'm just gonna say that it feels amazingly lightweight on the skin, giving a dewy natural finish without loading my complexion with too much product and make me feel like I'm wearing a mask. It has a natural effect with a healthy and fresh skin appearance, smoothing even fine wrinkles. I wore it on its own but I even applied foundation over it for a full face coverage to see how it behave. I'm going to reveal more details later this week in my upcoming review.
Another product that I was dying to try out is the gorgeous Raw Garden Eyeshadow Palette in Caliche (€49.00) which features four new mauvy and nude shades perfect for fall. The palette has the same design and packaging as the previous release of RBR Antigo Eye Shadow Palette (review, swatches, photos) and the texture of the eyeshadow is so fine and lightweight while the formula feels so soft and smooth. The eyeshadows are pigmented but don't expect something very dramatic as they are meant to deliver an intense pigmentation with a sense of transparency.
The signature multi-dimensional quality of RBR Eye Shadows is at its best here, with a 3D colour effect, an extraordinary satin-matt finish and the richest pigmentation with the most stunning colour pay-off ever.
Eyes Wide Open Brightening Liner Duo (€27.00 for 4.11 g/ 0.145 oz) in Glacier Flower is a duo pencil which can be used on the waterline with its light beige shade and as a highlighter with that subtly warm cream with a hint of pink shade. This pencil will give a precise application and it's ideal to line your waterline or illuminate the inner part of your lid or brow bone. It has a super creamy and satin texture that glides smoothly across the skin and ensures a tender application. The new Glacier Flower is suitable even for those with the fairest skin.
The duo pencil's mixture of natural oils and waxes makes the application incredibly light and soft. Infused with rich emollients such as Candelilla and Beeswax, Eyes Wide Open moisturises your skin. Carnauba Palm Wax protects and moisturises too, while Castor Seed Oil supports the regeneration process of your skin.
Enjoy more photos…