Hello pretties!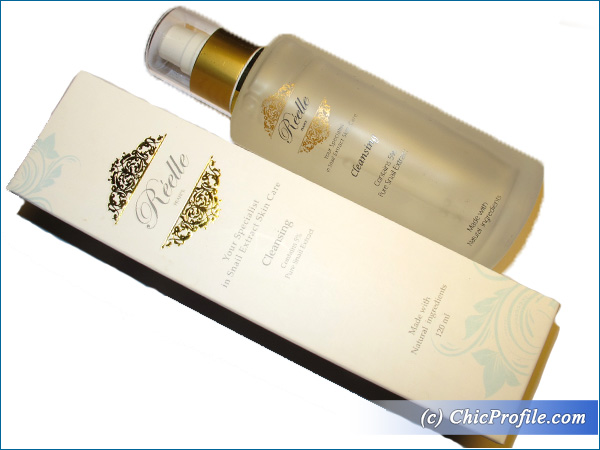 I discover Reelle French skincare brand about 7 months ago when I got a couple of products from them for testing and review purposes. Back then I told you how excited I was to give each product a try and see how it performs and I also gave you a quick preview, my first impressions and a couple of details regarding the formula.
Availability
International (Free Shipping World Wide) – Now @reelle-skincare.net &  @reelle-skincare.in.th
Reelle Snail Extract Facial Cleansing (€27.00 for 120 ml) is suitable for all types of skin and can be used morning and evening to clean your face or remove your makeup. If you have dry or sensitive skin, Reelle recommends that you use it only once a day. I have a sensitive and combination skin type and I rarely used it twice a day. I like to begin my morning with a shower and right then I apply 2 pumps of facial cleansing on my wet face, massage it into my skin for about a minute and then rinse.
The packaging of Reelle Snail Exactra Facail Cleansing reminds me of the design of vintage cosmetics. It comes in a thick glass bottle with a pump. While the container is a bit heavier than normal cleanser, I simply adore the simple and clean look. I've been using this facial cleanser for 7 months now and I never dropped it so I can't say how resistant it really is. The pump needs to be pushed a bit harder than the usual recipients and this assures that only a small amount of products comes out, which gives you a perfect control of each dose. I particularly need only 2-3 pumps to efficiently clean my entire face and when I'm wearing a full face makeup then I might add a pump or two. A little goes a long way and I still have enough product left for about a week or so. I admit that over the past few months there were times when I used Reelle Snail Extract Facial Cleansing 2 times a day or I would go two days without using it as I replaced it with one of my micellaire solutions but usually and most times I used it one time a day. I'm definitely feeling nervous as I see the bottle getting empty and I will definitely purchase it again.
Without any false modesty I would go right ahead and say that this is probably one of the best facial cleansers I ever used. I've said in the past as well, I'm not a fan of facial cleansers as I don't like the foam that it forms and the texture but Reelle got me totally addicted. It comes as a transparent liquid watery gel that turns into a mild foam while I massage it on my wet skin. Unlike other cleansers this one is so gentle and makes just a little bit of foam, that's also due to the natural ingredients that it contains and the 5% pure snail extract.
Reelle is a new skincare brand that has its snail farm in Thailand where they feed their little crawlers with Aloe Vera so they are entirely bio. I've actually looked into this skincare brand quite deep and found out they are not killing the snails during the extraction like other companies do, and they are also fed bio and organic under certification from the Royal Project of Thailand where the vegetables used to feed them are purchased.The water used in the farm to keep the snails moist and happy is also filtered by both carbon filters and osmosis filters. This makes the water very pure and safe to drink even for humans. This is very important as a snail's digestive system is very weak and any impurities could be found in it's slime.
That being said, I want to mention that Reelle's Cleansing is a gentle facial care product that can be used to remove makeup, dead skin cells, oil, dirt and other types of pollutants from your complexion. It has a nice natural neroli fragrance which shouldn't be of any concern as it's stated last among the ingredients so the amount is very small. Beside that Reelle says the fragrance is All natural , Non toxic ,Hypoallergenic, Non phototoxic, Non photosensitive.
In case you haven't used snail extract skin care products before you should know the snail extract has a lot of benefits. I noticed quite a lot of them when I used this cleanser along with Reelle Face Lotion and Serum and the most important and visible benefit for me it was that it stimulates the healing process of my skin, boosting skin's ability to heal. Everytime I had a breakout or a pimple came out I saw results within hours when I used these products. It felt like my skin regenerates from one hour to another, very fast, especially overnight.
Reelle Snail Extract Facial Cleanser helps loosen pores and eliminate blackheads and I totally love this product as having a combination skin type really gives problems on the T-zone. My face was clean, luminous, looking radiant and healthy and I had that constant feeling of freshness. It works amazingly well to remove the excess of oil while it can keep dry skin hydrated.
For me this product along with Reelle Face Lotion and Serum has done wonders to my skin. After each use my skin was soft and smooth to the touch, without feeling sticky or dehydrated. Here are some other benefits of the snail extract so you can understand better why I'm happy I've discovered such a brand:
Triggers the orderly repair and regeneration of damaged cells or cells affected by UV damage.
Promotes the development of the water holding carbohydrate molecules within the skin
Improves the capability of skin to emit antimicrobial and kill microbes
The bio active ingredient is encapsulated in liposomes for deep saturation into target cells and slow release to guarantee your cells are furnished the bio active molecules up to 12 hours after usage.
I'll be definitely purchase this product once I empty the bottle as my skin loves it and feels and looks so much healthier.
Enjoy more photos…