Hello beauties!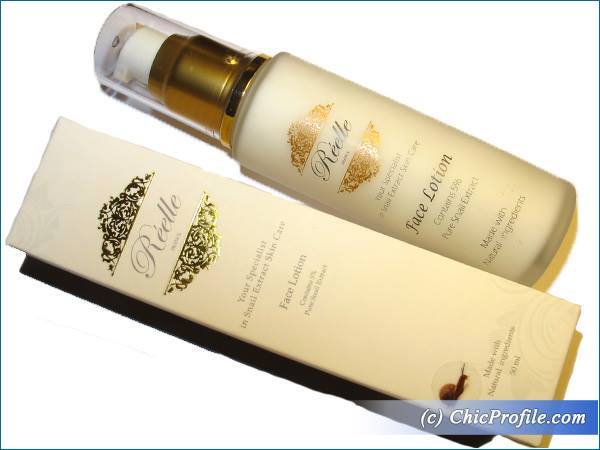 I've told you about the amazing Reelle skin care products so today I wanna talk to you about one of my favorites which is Relle Snail Extract Face Lotion, that I've been using for the past 7 months. I gave you a quick preview of this face lotion when I first started using it, back in the summer but now I want to tell you so much more about what has quickly become my go-to face lotion. For me Reelle skin care products were the first one I've tried to have snail extract in their composition and I've told you in my previous posts what are the benefits.
Availability
International (Free Shipping World Wide) – Now @reelle-skincare.net &  @reelle-skincare.in.th
Reelle Snail Extract Face Lotion (€43.00 for 50 ml) is a gentle face lotion made with 5% pure snail extract and suitable for all skin types. I'm reviewing this product from the point of view of a woman with combination skin type. It's a gentle face lotion which has a lightweight milky white texture that applies easily onto the skin being absorbed almost instantly.
I love the way my complexion looks and feels seconds after I apply Reelle face lotion as dries down to a matte finish, gives me a feeling of freshness, hydrates the skin in the same time. It has 7 key benefactors: collagen, allantoin, elastin, glycolic acid, hyaluronic acid, Vitamin E and protein. This lotion has a more powerful scent than Reelle Snail Extract Face Cleansing (review, photos, swatch) and it's stated in the list of ingredients almost at the end so it has quite enough amount that will make you notice it a couple of minutes after you apply it on the skin.
I had such a wonderful experience using this snail extract face lotion during the summer and winter and I'm so sad when I see I have only a couple of pumps to use. The lotion comes in a thick transparent glass with a pump. Very elegant, classy and as I said it before it gives me a feeling of vintage cosmetics packaging when the containers and bottles were high quality and brands really paid attention to details. Nothing about Reelle products' packaging expresses cheapness. The pump needs to b pushed a little bit harder that what you would expect and it gives you full control to the desired amount of quantity. In my case I'm happy with only 2 pumps for my entire complexion.
Reelle added in this lotion's composition, emollients and humectants, knowing that natural filmogens can be found in snail mucus and helps protect the skin. This filmogen agents also keeps skin hydrated and moisturized and I really didn't experience any feeling of dryness throughout the day.
My skin felt smoother, softer and was looking healthier, giving me a feeling of freshness especially when I applied it in the morning after Reelle Snail Extract Face Cleansing. There were times when I applied it twice a day but there were days when I used it only in the morning. During the summer this was my go to lotion as it really kept my T-zone from shining while maintaining skin hydrated at the same time. It felt wonderful even under foundation and it helped the foundation adhere better on the skin and blend easily. It helped skin regenerate quickly after a day spent on the beach under the summer sun. It triggers the orderly repair and regeneration of damaged cells affected by UV damage.
Reelle Face Lotion was a major help for me on those days when I had breakouts or a nasty pimple appeared out of the sudden as it helped calm the skin and hasten the healing process so when I applied this lotion in the evening I woke up with incredible results in the morning. During the winter I started using the lotion only in the morning, rarely in the evening and I also started using Reelle Snail Extract Serum (upcoming review).
My skin was happy with just the lotion and sometimes the serum but if you have dry skin you can follow up with a face cream if you feel the need. It helped diminish wrinkles, improve skin condition while revealing a healthier looking complexion.
I'm totally grateful that I had the change to test this product and to experience the benefits of snail extract. The price might seem a bit expensive but it's totally justified as this lotion will easily last you 5-6 months. For my type of combination skin this is the second best lotion after La Mer Oil Absorbing Lotion (review, photos) which is a luxury product and not many are willing to spent so much money on a face lotion.
Enjoy more photos…