Hello beauties!
As you know Paul & Joe Parisienne Girl Fall 2017 Collection is been on the counters for a while. Today I want to give you more details about the newly released Paul & Joe Eye Colors in No.111 Charmante Girl and No.112 Parisinne Girl. I have the lipsticks reviews coming up right after this post so I hope you enjoy them. Paul & Joe products always have such a cute packaging and these new duo eyeshadows make no exception. They come packed in small, cardboard cases which are pretty sturdy. You have to admit the packaging is pretty special and by the way is limited edition.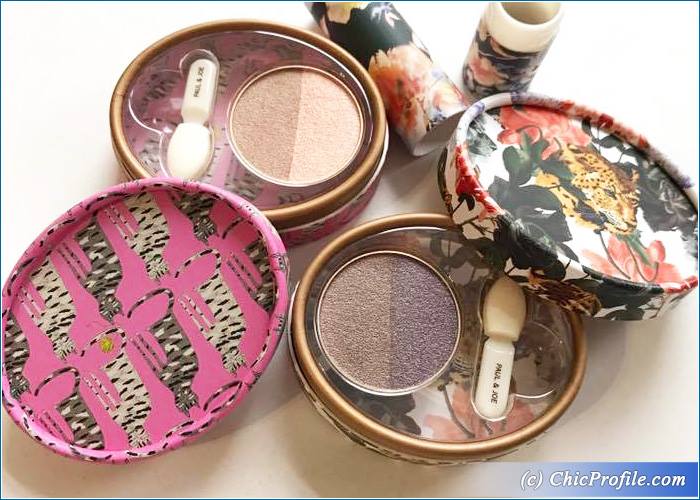 Where to buy:
UK Launch Date – Now at Beauty Bay | September 2017 at Selfridges
Paul & Joe Eye Colors No.111 Charmante Girl (£19.00 for 2.5 g / 0.08 oz) features two medium brown eyeshadows in a cat print case. The lightest shade is a light peach with warm undertones and a satin finish. The other one is a medium, rosy-brown with a soft satin finish. Both colors apply easily and adhere well on the skin.
The colors are not too intense or very pigmented, they are meant more as gentle, natural looking shade. I used them a couple of times during the day and the look so natural and luminous on the eyes. I absolutely love these wash of colors. The feel very silky and smooth to the touch. They apply well and blend easily, without looking patchy. The formula got me up to 7 hours wear without any fall out.
Paul & Joe Eye Colors No.112 Parisienne Girl (£19.00 for 2.5 g / 0.08 oz) features two deep brown eyeshadows in a floral and tiger print case. The lightest shade is a medium-dark, eggplant-brown with cool undertones and a satin finish. It has a good color payoff with a soft and silky formula. The darkest shade is a dark, violet with cool undertones and fine shimmer. This shade is more like a blackened purple with some fine particles of light violet and satin finish. It looks absolutely gorgeous on the lid.
I use this eye color duo to create evening looks. The colors are so easily blendable and buildable in the same time. I didn't get any fall-out during the application and they both adhere well onto the skin. They didn't feel dry throughout the wear and they delivered an even color. I got around seven hours wear with this formula.
SHOP THIS POST
Enjoy more photos…