Hello beauties!
Legendary Makeup Artist Pat McGrath takes enticing eye ecstasy to unprecedented dimensions with the incendiary splendour of her new MOTHERSHIP V: Bronze Seduction Eye Palette.
Featuring ten extravagantly extraterrestrial shades in five next generation, state of the art finishes. The 10-pan palette promises to surreally sculpt and shape the eyes for supreme seduction with its formidable formulations.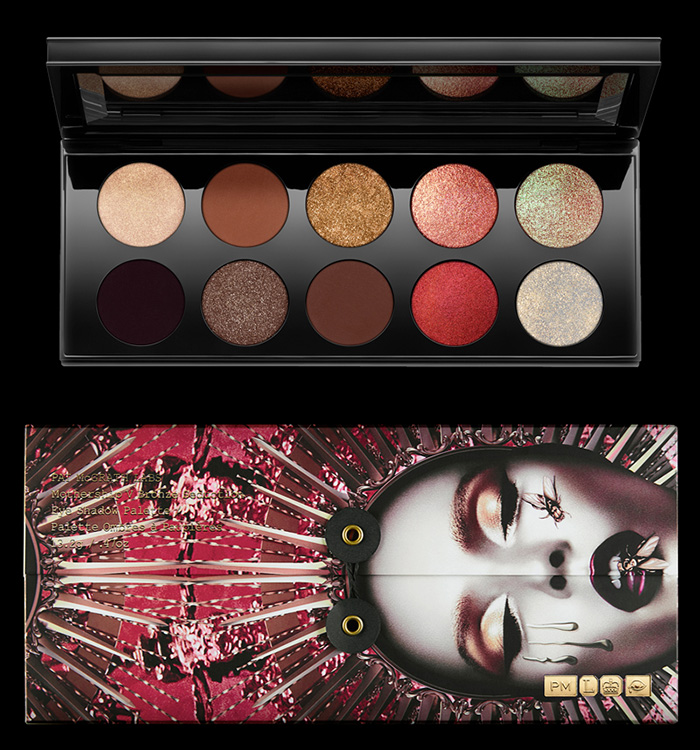 Availability
U.S. Launch Date – 7 September 2018 at Sephora, Pat McGrath
Pat McGrath Bronze Seduction Mothership V Eyeshadow Palette – $125.00
ONE PALETTE. FIVE SHOW STOPPING FORMULAS.
Sublime Silk Mattes. Sculpt and contour the lids with the pure pigment technology of these rich, creamy, ultra-soft colours. The advanced smoothing, cross polymorphic mattes adhere to skin and deliver an enhanced soft focus and blurring effect with a weightless feel.
Shades:
ENTRAPMENT – matte warm terracotta
DISOBEDIENT – deep mahogany
XTREME AUBERGINE – matte aubergine
Galactic Glitter. This gel-powder formula is infused with vitamin-enriched emollients designed to hydrate while delivering a sensorial application for a high-impact glittering effect. Captivate with cosmic
iridescence.
Shade:
BRONZE BLAZE – metallic bronze
Illuminating Highlighter. Powered by micronized pigments for the highest level of pearlization and extreme incandescence. This salaciously blinding shimmer imparts a lustrous glow while microfine pearls deliver maximum luminosity.
Shade:
SKINSHOW DIVINE GLOW – illuminating beige
Creamy Shimmer. Formulated with ultra-soft emollients, this pressed powder-cream hybrid melts into skin to deliver multidimensional reflection, supernatural shine and mind-altering colour.
Shade:
GUILTY PLEASURE – golden taupe
High-Impact Prismatic Pearl. This revolutionary formulation captures divinely decadent light for unprecedented velvety-smooth radiance. The proprietary gel-to-powder hybrid formula ensures long lasting emolliency and seamless blendability imparting high-impact lustrous colour. Extremely refined pearls create a beaming finish that's intensely iridescent and offers the most dynamic
celestial light effects.
Shades:
ROSE GOLD 005 – metallic rose gold
VR FIRE OPAL – duochrome
BLITZ FLAME – metallic crimson
ASTRAL LUNA GOLD – peach gold
Fashion your most fixating looks with the fierce blend of intensely smooth, cream infused pigments that set eyes ablaze in vividly vibrant colour with majestically metallic shine. Galactic glamour awaits as tantalizing textures glide on in a single stroke and transform with seamless blendability.
Hidden in plain sight on the runway at Valentino Haute Couture, FW '18 in Paris, as
a captivating counterpoint to Pierpaolo Piccioli's collection, McGrath unveiled the
MOTHERSHIP V: Bronze Seduction Palette. Shades 'GILTY PLEASURE', 'DISOBEDIENT' and 'BLITZ FLAME' were used to create an atomic futuristic wing, while 'SKINSHOW DIVINE GLOW' and 'ASTRAL LUNA GOLD' projected scintillating stellar light effects that beamed to the heavens.
"I was obsessed with creating a Maria Callas moderne balancing opulently operatic otherworldliness with regally resplendent jewel-tones. It was all about conjuring painterly perfection that illuminated the purity of each model's individuality."
Enigmatically enclosed in the instantly-iconic black lacquer Mothership case, MOTHERSHIP V: Bronze Seduction delivers ten new hyper-pigmented spellbinding shadows, ranging from gleaming golds, molten metallic bronzes and an incendiary crimson to signature highly-pigmented mattes inspired by McGrath's eternal obsessions: outer space, goddess-level glamour and metallic mesmerization.
"This legendary eye palette allows you to transcend the spectrum and accentuate
the natural beauty of the face with a collection of highly-advanced formulations that work together to highlight, sculpt, shape and transform the eyes with supernatural effects," says McGrath. "Each are uniquely resplendent and offer the most sumptuous and sensorial application. Their powerful payoff, extraordinary blendability and lush textures glide and blend flawlessly within the contours of the eye and flexibly hug the skin to stay effortlessly in place. Defiant and instantly iconic, BRONZE SEDUCTION is a masterclass in unparalleled innovation and radical creativity."