Hello sweeties!
Keep an eye on the new launch of Pat McGrath Decadence Mothership IV Palette along with new shades of MatteTrance Lipstick later this month. The palette features 10 new shades while the lipsticks come in 10 matte finish colors. Swatches are already available on Instagram.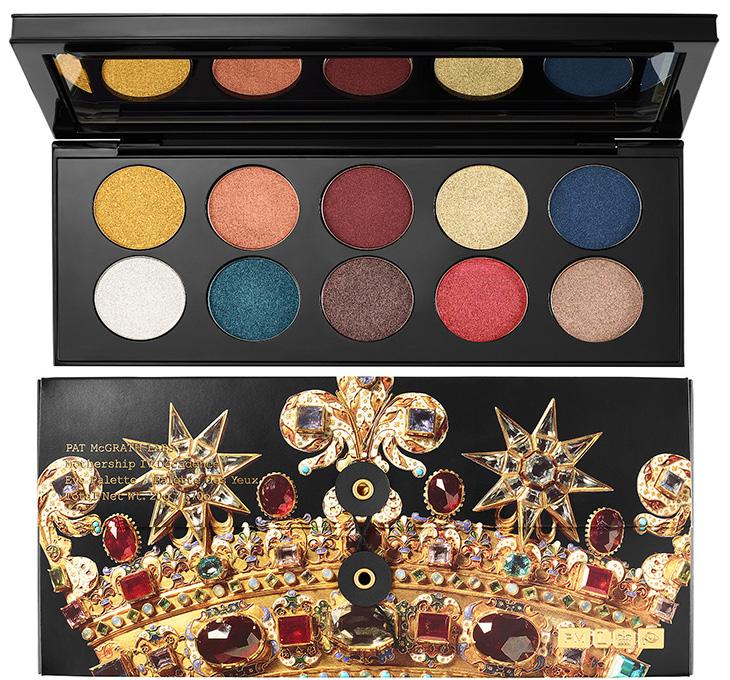 Availability
U.S. Launch Date – 18 January 2018 at Sephora, Pat McGrath
Pat McGrath Decadence Mothership IV Palette, New MatteTrance Lipstick Spring 2018
Incite a hedonistic inferno with intense, saturated shades that that jewel the eyes in multidimensional, metallic radiance. This luxurious cream-infused formulation releases beautifully blendable, sensuously smooth pigments that adhere flawlessly to accentuate eyes with captivatingly chromatic color. These shades glide across the eyelids with an emollient-like texture and a sensorial feel. Metallic, pearlized pigments ignite and amplify color for a polished and bright finish. Achieve fully-pigmented, opaque color in just one stroke. Like a vault's worth of gemstones, this dazzling collection of flawless finishes defines and highlights the eyes, summoning the spirit of baroque bijoux in cosmetic couture.
Gold Standard

– glistening yellow rich gold

Sterling

– luminous polished silver

Hedonistic

– fiery crimson

Lapis Luxury

– frosted multidimensional turquoise

Blue Blood

– deep frosted vermillion

Inferno

– radiant metallic copper

Sinful

– platinum gold

Divine Min

– frosted grey-brown sheen

Enigma

  – glittering grey-beige

Underworld

– deep metallic matte cerulean
Peep Show

– soft pink peach nude

Femmebot

– midtone blue pink

Soft Core

– dirty cool pink

Modern Woman

– midtone dirty lilac

Venus in Furs

– dirty rose

Candy Flip

– midtone coral

Polaroid Pink

– midtone blue pink

Faux Pas

– midtone lavender

Full Blooded

– deep wine

Vendetta

– dark dirty red
SHOP THIS POST