Hello babes!
Last week I stopped by Oud Milano Makeup store to check out new products and choose a few favorites. You can read here my Oud Milano reviews so far, but this time I wanted pink and purple shades. The products that I got are part of permanent collection so you can always find them in the store. I've already tested them all so watch out for my reviews in the upcoming days.
Once I entered the store I had a pleasant surprise in seeing the limited edition Silk Road Collection for Fall 2017. It was amazing! More details about this collection on another post but in the meantime you can watch my Instagram video.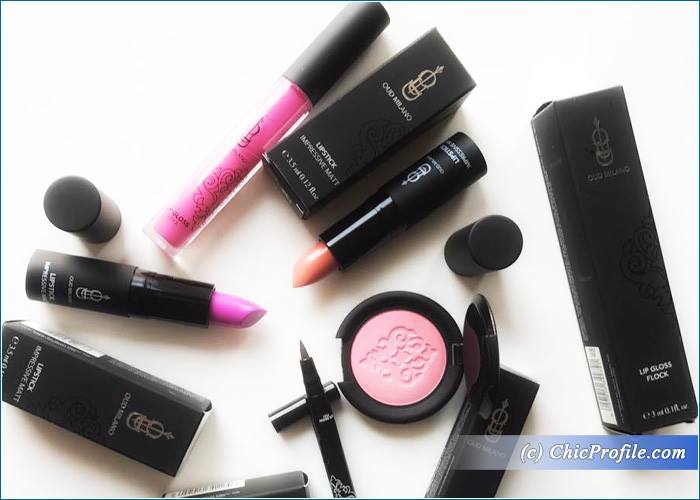 Where to buy:
London – Now at Oud Milano Store (353 Oxford Street, W1C 2JG – across the street from Debenhams)
International – Now @oudmilano.com
I told I'm slowly getting used to the matte lipstick trend. So I wanted to try a couple of shades from Impressive Matte Lipstick ($27.94 / £21.50 for 3.5 ml / 0.12 fl oz) range. I went for a hot purple-pink in No.215 and a rosy nude in No.201. I wore them both last week and I was really impressed by how pigmented and long lasting they are. Individual reviews will follow so keep on eye on my blog if you want to know more.
I couldn't pass the chance of choosing at least one shade of Lip Gloss Flock ($18.00 for 3 ml / 0.1 fl oz). Obviously I went for a hot pink shade in No.506. You could have seen me wearing the shade on my Insta Stories yesterday. It was so vibrant and highly pigmented, not to mention long lasting.
Eyeshadow Compact No.308 ($19.00 / £19.50 for 3 g / 0.1 oz) in a light pink shade came as a natural choice to complement the rest of the product. It has a soft matte finish and is a super wearable pink hue. I don't know how to depot it yet, as I hoping for an easy fix. More info and photos on my upcoming review.
Oud Milano Eyebrow Pen ($14.00 for 0.8 ml / 0.027 oz) caught my attention from a previous visit to the store. I saw what a precise line you can get by using this pen that I absolutely had to try it. It has an ultra-precise tip and it comes available in four shades. Mine is No.502 and I've been using it a couple of times ever since. I have to say that it leaves a strong stain behind. Even after I swatched the shades I struggled to remove the colors but the stain was there.
Enjoy more photos…