Hello beauties!
One of the first products I started to use after I went to the opening of the first NYX Store in Bucharest, was NYX Strobe of Genius Palette, a product that I've heard so much about over the internet during this year. NYX is a drugstore brand that offers makeup products that can sometimes compete with high-end products and they have amazing affordable prices, comparing to the quality of products, diversion, spectrum of colors and the amount of product offered in the packaging.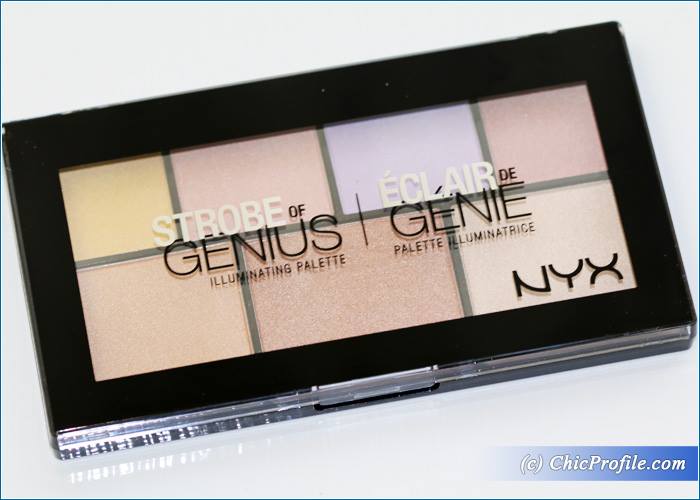 Where to buy:
Romania – Now at ParkLake Mall (Bucharest) | City Park Mall (Constanta)
U.S. – Now at Ulta, @nyxcosmetics.com, Amazon
UK – Now at Selfridges
NYX Strobe of Genius Palette ($18.99 / 79.00 Lei for 4 x 0.07 oz/ 2 g and 3 x 0.14 oz / 4 g) is an illuminating / highlighting palette which offers a total of seven shades. There are four small shades and three larger ones, which are actually double in size, comparing to the smaller ones.
This palette comes in a sleek, black plastic compact with a clear top so you can see the shades. There's no mirror included, even though I would have loved one to help me for a quick touch up on the go and I'd admit it would have made it more travel friendly, but considering it's a drugstore product, a more fancy packaging would have rise the price.
At first sight the palette is so versatile because of the large spectrum of shades, ranging from light to dark and from yellow, to light purple and bronze. This palette can be worn by anyone, starting from those with a fair skin and ending with darker skin tones. You can wear the colors separately to lightly buff the shades onto the highest points of the face or you can combine some of the shades together to create a new color, more suitable for your skin.
All the shades have a good pigmentation, good color payoff, so if you are a light skin toned like me you may want to go easy on the darker shades, such as No.6 a darker coppery color.
The icy lilac color gives you a fresh look and I absolutely love it, but I wouldn't see myself using that bright gold color which leans towards yellow too much for me. All the colors apply easily and blend effortlessly, but when it comes to the formula and texture is a different thing. Some of the shades have a more dry and powdery texture, as I notice they kick out a lot of product right from the pan when I swirl my brush to pick up product. Other shades, like the lilac and lighter vanilla one which is the more universal shade, have a better application, minimum fall out.
As I said, the colors are rich and pigmented so just apply them with a lighter hand at first and then build up the color if you feel like or just use another shade to mix them together. The shades have a shimmery finish, which is very finely milled so it helps making them looking natural on the skin as long as you don't over do it with the application.
You can use the darker coppery color for bronzing as well or gently apply it over your contouring powder. I even used some of these colors as eyeshadows but I noticed they started to fade after 5 hours wear. As highlighters the average wear time for them is around 5 to 6 hours, after that they start fading away noticeably.
This is considered one of the best drugstore highlighting palette, offering a range of colors from champagne, pale icy lavender to rose gold, yellow and copper, that goes with any skin color.
Enjoy more photos…