Hello babes!
There's this trend going on this season of matte lips, so even though I'm not a huge fan of matte finishes, over the past few weeks I've kept on testing and trying out different lip products. NYX Monte Carlo Soft Matte Lip Cream came my way recently along with other NYX makeup products that I already told you about briefly when I announced the opening of first NYX store in Bucharest. Right from the start the idea of a matte lip cream was more friendly to me, considering the formula would be creaming and slightly hydrating comparing with matte finish lipsticks which can be difficult to wear sometimes.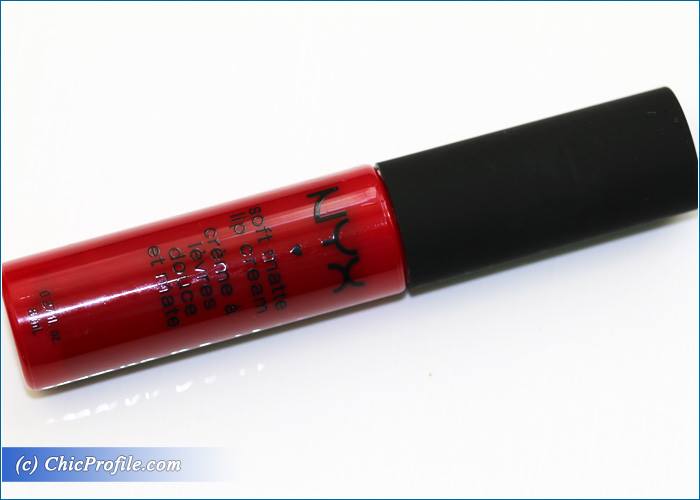 Where to buy:
Romania – Now at ParkLake Mall (Bucharest) | City Park Mall (Constanta)
U.S. – Now at Ulta, @nyxcosmetics.com, Amazon
UK – Now at Selfridges
NYX Monte Carlo Soft Matte Lip Cream (29.00 Lei / $6.00 / £5.50 for 0.27 fl oz / 8 ml) appears to me like a medium-dark red with a hint of raspberry to it, cool undertones and a matte finish. It dries down in a couple of minutes to a soft matte finish and gets completely matte within an hour.
The color is intense, rich and pigmented but it won't give you a full coverage in one swipe. It glides easily across the lips but it looks patchy in just one layer, so you'll notice some parts where the color looks more sheer. In order to get a full opacity out of NYX Monte Carlo Soft Matte Lip Cream I like to apply up to 3 layers of color, waiting for the color to dry out between applications. It really helps get a more even color application and make it appear like the rich color that is in the tube.
The texture is thin and doesn't feel dry at all, nor does it leave a sticky film behind. It feels comfortable throughout the wear and my lips are soft and smooth. I find that this soft matte lip cream has a more forgiving matte formula than other products, it's gentle on the lips without needing to come back home after a day wear of color and reach out for my lip balm immediately.
As I said, I'm not keen on matte lipsticks as I don't like how the formula emphasizes my lip lines and the feeling of dryness throughout the wear but with NYX soft matte lip creams the feeling is totally different. They don't try out my lips, on the contrary the feel lightly moisturizing and don't sink completely into lip lines.
The wear time for this color was around four hours and a half without leaving a stain behind. If you want to take a meal while wearing this color a quick touch up afterwards will be totally needed so keep the product in your bag if you are going out.
Enjoy more photos…