Hello beauties!
I have a passion for MAC Vamplify Lip-glosses and I couldn't have missed this year limited edition release.  Right on the first day these launched, I went to pick up my new dose of MAC Vamplify as I told you briefly the other week. I got two shades, both repromote but last year I missed out on MAC What's Going On Vamplify because it was already sold out by the time I arrived at MAC counter.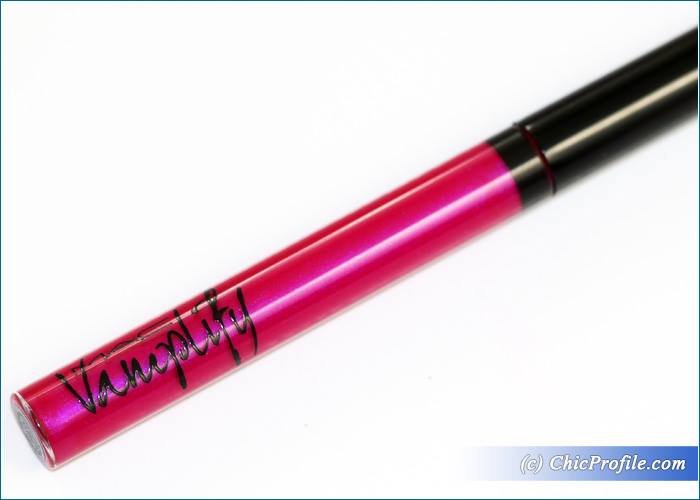 Where to buy:
Romania – Now at MAC Stores
U.S. & International – online @maccosmetics.com and MAC Locations
MAC What's Going On Vamplify Lipgloss ($20.00 / $24.00 CAD / 104 Lei / €21.50 for 0.16 fl oz / 5 ml) is officially described as a hot intense fuchsia. It is a medium-dark hot pink with fuchsia and light violet shimmer and a glossy finish. It's a bold and intense color so if you are color shy or don't want to attract attention on you lips you may choose something else.
I was anxious to try out MAC Vamplify since they first launched last year and only from the official description I knew I was going to love these. I mean I've always been a lipgloss kinda gal and when I heard about a lip gloss with a high color coverage and super shiny finish is like a dream come true. Last year I bought two Vamplify shades so I already knew what to expect, only this year I wanted to add something very pink to my collection.
MAC What's Going On is a super intense, rich and pigmented shade that will emphasize your lips and make them appear fuller. The color comes on mostly opaque in one swipe. It applies on very smoothly and evenly, gliding easily across the lips. The finish is so incredibly shiny and makes lips look so fresh and plumed. It doesn't sink into lip lines at all and feels so comfortable and creamy when applied.
I just love the fuchsia and violet effects this shade has and depending on how the light hits it can create different effects. The texture is a bit thicker than your regular lip gloss, but creamier in the same time without feeling sticky or tacky for a second.
My lips felt soft and hydrated throughout the wear and I had such a comfortable feeling. I absolutely love that is not sticky or tacky and it burst with color. I think that Vamplify glosses are a dream, a combination between a liquid lipstick and a lipgloss so you won't get anything more pigmented as these.
I had around 7 hours wear with this formula, without leaving a stain behind.
Enjoy more photos…