Hello pretties!
I'm no stranger to NYX Jumbo Eye Pencils (review, swatches) as I've gathered a couple of shades over the years, but the No.627 Cobalt shade is definitely new for me. I received this one along with a bunch of new NYX items at the opening event of first NYX store in Bucharest. NYX Jumbo Eye Pencils are cheap and offer a wide variety of colors, so it's impossible to say you haven't found your right shade.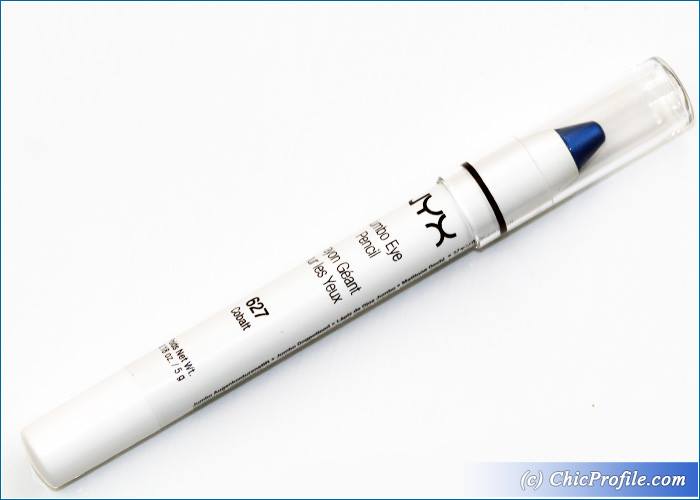 Where to buy:
U.S. – Now at ULTA and @nyxcosmetics.com
UK – Now at Boots, Selfridges
Romania – Now at ParkLake Mall (Bucharest) | City Park Mall (Constanta)
NYX Cobalt Jumbo Eye Pencil ($4.50 / 25.00 Lei for 5 g / 0.18 oz) is medium aquatic-blue with some green undertones and a silver sparkle. It has a good color payoff, being rich and intense in just one swipe. It adheres well onto the skin and even though it has some glitter particles it shows now fall-out during the application.It comes in the form of a pencil which makes it easy to use it as an eyeshadow base and work it all over your eyelid, but it also doubles as an eyeliner and you can apply it even on the waterline or smudged it underneath your waterline.
It has a creamy but firm consistency, glides easily across the skin without tugging or fading. It is easily blendable and easy to work with. This is just a vivid hue so I usually use it when I'm aiming for a colorful makeup look in combination with green or blue shades, like I did yesterday (upcoming makeup tutorial).
The formula is made with a blend of mineral oil and powder so it feels creamy and soft on the skin. You'll definitely need a sharpener that has an opening for a large pencil as this is not a mechanic eye pencil.
I normally prefer to use NYX Jumbo Eye pencils as an eyeshadow base, to intensify my eyeshadows and make them adhere better onto the skin, but I've also use them as plain eyeshadows but they do crease pretty fast. They don't feel sticky at all.
I noticed the smell is kind of funny, it's so weird that I don't even know how to describe it but is not irritating or noticeable when I wore the product. It doesn't irritate my eyes or my skin in any way.
Enjoy more photos…