Hello pretties!
Yesterday was an amazing day for me even though I'm a bit superstitious when it comes to number 13. I already told you how much I love shopping at Douglas, as they always have amazing promotions and gift with purchases for different brands, but they also offer discounts to their card owners. Last month while I did some Clinique and Estee Lauder purchases at Douglas Park Lake Mall I also entered their local raffle. Yesterday I received a phone call which announced me that I won the raffle and I should pick up my prize right away.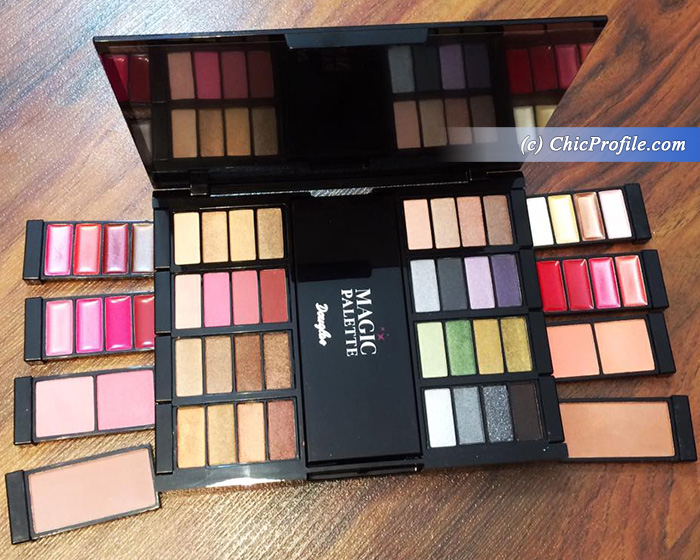 I honestly decided to blog about my prize because I'm honestly in love with Douglas Magic Palette. I didn't thought much of this palette until I opened it and so have many products it features…but wait that's not even the best part. You can definitely purchase it right now at Douglas Perfumeries as it retails for 90.00 Lei and I'm telling you it's totally worth it.
It has all the products you need and a variety of colors, so this makes it an amazing face, eyes and cheeks palette. You won't be able to say that your favorite color is not here but when it comes to the eyeshadows you must love a bit of sparkle or satin finish as they are hardly any matte shades in here.
You can easily create a nude or natural day to day makeup look, go for a cheerful, vibrant and colorful look with those crazy colors or make a sultry eye makeup, smoky eye look for the evening or a party.
As I said, the bunch of colors and variety of products and textures are not even the best part when it comes to this palette. What I find amazing is that all the products can be detached from the palette and put together in the mini palette which for you to take them on the go. So you can choose to customize your mini Magic Palette with your favorite combination of shades, either that you are choosing eyeshadows and lipsticks, or a blush and creamy eyeshadows is totally up to you. I have something similar from Estee Lauder but it costs an arm and a leg and this one from Douglas is definitely a cheaper option.
You can put in the mini palette exactly the shades you've used to create your makeup look for the day so you can make sure you have them nearby if you want a quick retouch. The small palette has a mirror enclosed and lip brush and a duo-eyeshadow applicator which makes it so travel friendly.
The big Magic Palette comes in a black, shiny compact with a lid that snaps shut. It's feels quite light when I hold it despite the amount of products it features, but it doesn't have a mirror included which would have been preferable.
Douglas Magic Palette (90.00 lei) features:
32 Eyeshadows
4 Cream Eyeshadow
12 Lipstick Colors
4 Blushes
2 Pressed Powders
Enjoy more photos…