Hello pretties!
A black lip liner is not something that you'll go shopping for everyday, is it?! But since I got into this trend of wearing black lips this season a black lip liner was a must so I bought NYX Black Lips Retractable Lip Pencil about two months ago when NYX opened its first store in my city. I got a retractable lip liner which is a mechanical one, just because this is what they had in black at NYX counter but I wouldn't mind using a sharpener for a classic lip pencil. NYX Retractable Lip Pencil comes in 19 rich pigmented shades so you can choose any other color to match your lipstick if you like.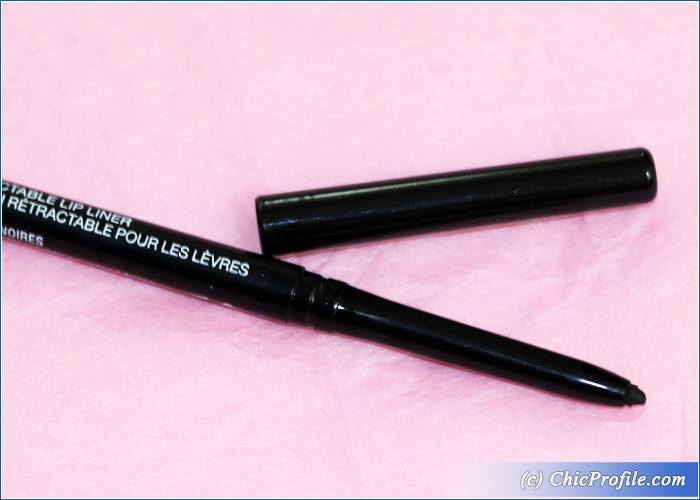 Where to buy:
Romania – Now at ParkLake Mall (Bucharest) | City Park Mall (Constanta)
International – @nyxcosmetics.com
NYX Black Lips Retractable Lip Pencil ($4.50 /33.00 Lei) is a dark black with a soft matte finish. It has a rich color payoff, being intensely pigmented in one swipe.
It glides on so smoothly across the lips, without pulling or dragging and can be used not only to line your lips but also as a base for your black lip color. You could wear it on its own if you like for a black, matte finish lip color.
I personally have used it in combination with NYX Alien Liquid Suede (review, swatches), NYX Blackberry Pie Butter Gloss (review, swatches) and Melkior After Dark Lipstick (review, swatches).
I like that it has a soft tip and texture, feels very creamy and not at all dry on the lips, not even when it's wore on its own. The only thing that I don't like is that it doesn't give such a precise application, since the tip is not that pointed and can't be sharpen. Once you'll start using it the tip gets rounder so it doesn't allow me for a perfect cupid bow.
It doesn't bleed, it stays in place and last for about 4 hours on my lips.
Enjoy more photos…