Hello lovelies!
Numeric Proof Amethyst Long Last Lipstick came into my life last fall and since then I had been wearing it on several occasions. This is one special liquid lipstick let me tell you, not only because is among the most long lasting liquid lipstick I have even come across in my life but also because it has this super special matte metallic finish.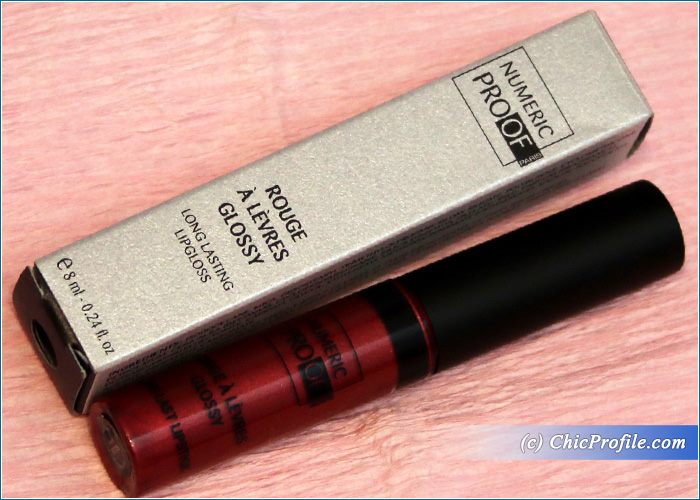 Where to buy:
Romania – Now at @adhara.ro
U.K. – Now @gurumakeupemporium.com
Numeric Proof Amethyst (RLG 09) Long Last Lipstick ( 8 ml / 0.24 fl oz) is a medium dark burgundy with a matte metallic finish. This is what I call a rich and truly pigmented shade. It has a great color payoff, being fully opaque in just one swipe. It made me instantly fall in love with its pigmentation and how well and easily adheres on the skin.
It glides effortlessly  and evenly across the lips, without pulling or tugging and reveals a super intense color with a metallic finish. I have to admit that Amethyst may not look so dashing into the tube but once you swatch it or apply it on your lips, you will see things from another angle. For me personally it's the kind of color that I choose to wear in the second part of the day, especially night time when I'm going to a party, clubbing or attending a late social event or having dinner with my boyfriend.
The texture feels so lightweight unlike other liquid lipsticks I've tried (except Giorgio Armani Lip Magnets) and the formula is creamy but light. The color adheres so well onto the lips, ensuring a long lasting effect and without being transferable onto a glass or a cup of coffee everytime you drink. Once it dries down my lips become matt but with a metallic shine and have this super sophisticated and elegant effect.
It's definitely a color that screams sophistication and elegance and will definitely attract attention. It doesn't dry out my lips and I feel so comfortable wearing this liquid lipstick all day long, without having the formula sink into my lip lines. Even after hours of wear my lips are soft and I don't feel the need of extra hydration or to apply a lip balm.
The product comes in a small transparent plastic tube with a black cap and a doe footed applicator which ensures a flawless application and precision. I had about six hours wear with this formula without leaving a stain behind. I'm confident that when I'm wearing this color I can drink or have a meal without needing to worry that my makeup needs a retouch.
Enjoy more photos…