Hello lovelies!
I've heard about Andra Cosmetics on several occasions and I even took a glimpse at some of the products recently at one of the beauty exhibition hosted in my city, but we never been properly introduced until….Last week on a Wednesday I woke up with a gift from Andra and a such a wonderful letter that filled my entire day with joy. I'm not talking about makeup products, nail polishes, colors and limited edition items, but about tools and products that are must-haves for makeup artists, beauty bloggers and why not for everyone who is passionate about makeup. Me and Andra share the same  passion for make-up and beauty so I know only beautiful things can come out of this.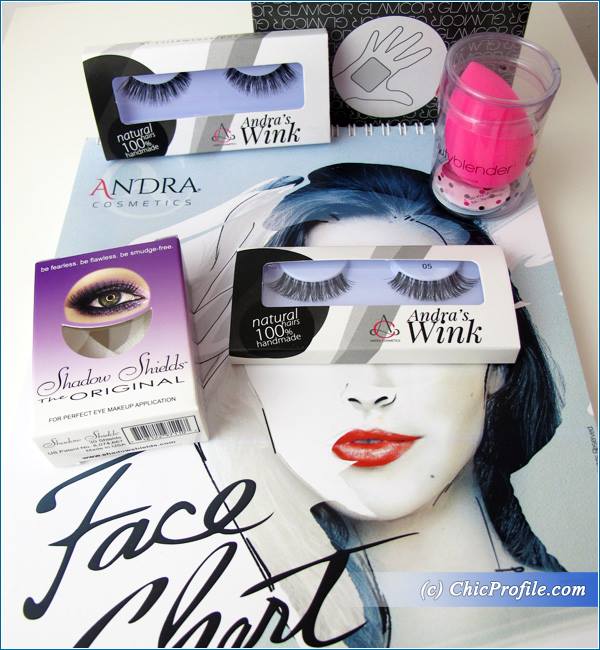 Where to buy:
Now online @andracosmetics.ro
Andra Cosmetics offered me quite a few new and interesting items to try out, items that I've been interested in for a while. So here is what I got and I'll be talking about these products in my future articles as I've already started using them.
I might not be the most talented person when it comes to drawing but I'm definitely into makeup and colors and thanks to the new Face Charts (65.00 Lei) offered by Andra Cosmetics I will try to sketch out a few of my favorite makeup looks. Either if you are a Makeup Artist or just someone who's embracing this passion and just started going to makeup classes, these Face Charts will definitely come in handy as they contains 50 files, with a special paper that imitates skin and fine texture.
Glamcor Hand Palette (60.00 Lei for 50 pieces) are probably the most useful for me as a beauty blogger always having to make swatches and testing products. I also have a skincare condition, called dermatitis and it shows only on my hands so I was quite reticent to having to make swatches on my hand. These Hand Palettes are 100% sterilized medical grade, have a lightly textured finish, are transparent and transfers body heat. They are very hygienic, reduce clean up time, prevent transmission of bacteria, viruses, sloughed skin, sweat, oil, and hair to makeup.
Shadow Shields (35.00 Lei for 30 pieces) represent the ultimate multi-tasking beauty tool. I actually used these last week for two of makeup looks and they came out impeccable. They helped me create straight edge for shadow, protected under eye area from eye shadow fallout especially when I used darker colors or pigments. I'm also curious to see how will they help perfect winged cat eye. They have a gentle self adhesive so they can be removed gently without stressing your skin or damaging your makeup
Andra Cosmetics also offers Lashes (18.00 Lei) that are 100% handmade and made of Natural Hairs. I got two pairs in No.16 and No.05 and I'm hoping to use these soon in my looks. They don't come with a lash adhesive so you'd have to use your own.
Last but not least is the famous Original Beauty Blender (80.00 Lei) which I believe doesn't require an introduction. I haven't used it yet, but I will and compare it with the other beauty blenders I have from Melkior and Real Technique.
Enjoy more photos…