Hello beauties!
Guerlain La Petite Robe Noire 007 Black Perfecto Nail Enamel is one of the star colors of the new and permanent Guerlain La Petite Robe Noire Spring 2016 Collection (swatches, photos). Needless to say that this is my favorite shade from the entire collection as I've always been into dark nails, but I can't deny I also appreciate a hot pink. Considering my nails are very short these days, a dark nail polish like Guerlain Black Perfecto was ideal for a manicure.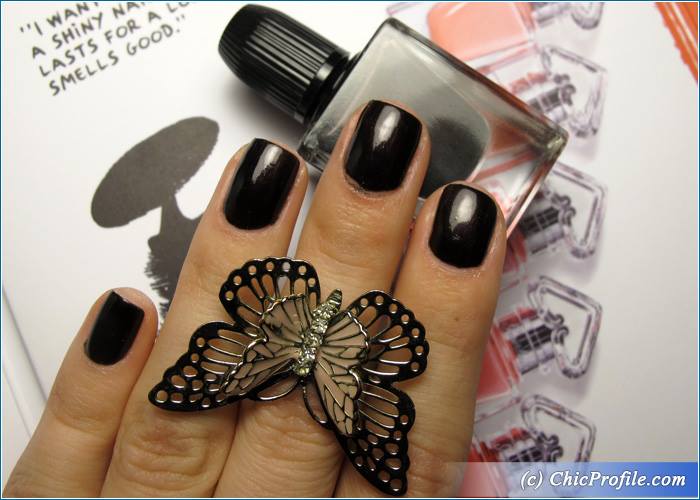 Where to buy:
Romania – Now at Sephora, Douglas
UK – Now at House of Fraser
Europe – February at Sephora, Douglas
Guerlain Black Perfecto Nail Enamel (115.00 Lei / €23.00 for 8.8 ml  / 0.29 fl oz) is a very dark brown-black with cool undertones, violet reflections and very fine violet and silver shimmer. It has an ultra-shiny finish which will definitely make the color stand out.
The color is rich, pigmented and totally opaque in two layers with a formula very well balanced between thick and thin. I admit I had my doubts when I first held the small nail polish bottle in my hand and especially when I saw the short and thick brush, but once I started applying the polish everything went on smoothly. The brush glides effortlessly across the nail, delivering an even color coverage. The application went well without streaking, bubbling or pooling around the edges of the nail.
I absolutely love how Guerlain Black Perfecto nail enamel looks on short nails and that's is the kind of color that delivers more than just a dark shade, something with a twist. 🙂 That violet pearl and shimmer make this color unique, very mysterious and elegant in the same time.
This time, I choose to wear the polish only in two layers without any top coat applied. After five days wear you can see the result in the last photo bellow. Guerlain said the new formula is special, thanks to a specific resign that guarantees the film's elasticity and suppleness, it delivers an exemplary hold.
Did I also mention that the formula is scented with La Petite Robe Noire's original accord which lingers for 24 hours? 🙂 Well, it's a special nail polish, a scented one.
I had minor tip wear, no chipping and still a strong color. I will wear this color again but next time with a top coat, as I'm curious to know how longer it will last in an impeccable form. 🙂
Now, I'm wearing another color from the same collection which is called Guerlain Pink Tie and you can see a preview and swatches on my INSTAGRAM account. I shall post the review in the upcoming days.
Enjoy more photos…