Hello cuties!
Guerlain La Petite Robe Noire Spring 2016 Collection is already on the counters for three weeks now and I've already shown you swatches and reviews for most of the colors. Today I will put into the spotlight some of my favorite Guerlain La Petite Robe Noire Nail Enamels shades and I hope you'll enjoy it as well. These are all permanent products so take your time in choosing your favorite shade as I'll be reviewing them individually in the next couple of days.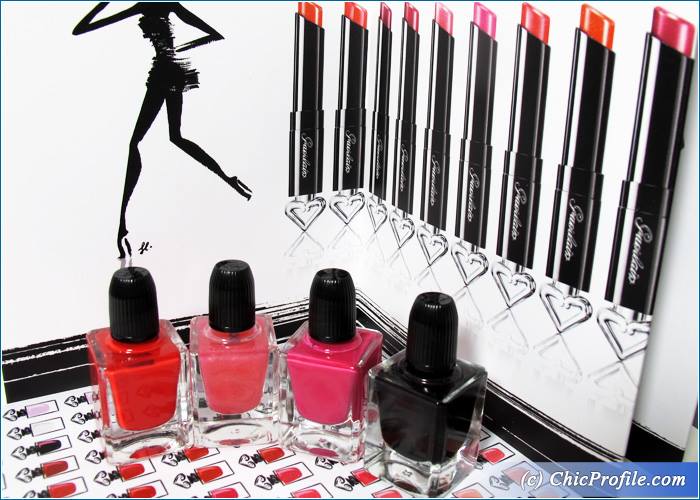 Where to buy:
Romania – Now at Sephora, Douglas
UK – Now at House of Fraser
Europe – February at Sephora, Douglas
Guerlain La Petite Robe Noire Nail Enamel (115.00 Lei / €23.00 for 8.8 ml  / 0.29 fl oz) come available in 8 permanent shades, compatible with the lipsticks and create tone-on-tone effects or offer bold offbeat looks. They include four star shades that are already set to become must-haves for accessorising your dress down to your fingertips. You can take a look at them right after the jump.
001 My First Nail Polish
002 Pink Tie
003 Red Heels
007 Black Perfecto
Last week I first painted my nails with the darkest color of them all, the mysterious Black Perfecto nail enamel, as you know how crazy I'm about dark nails. You would say that this is a black polish but when you look a little bit closer and especially when you start layering the color on your nails you will see how amazing and special it really is. I will review this color first so you can also see how long lasting the new formula really is, when it is worn without any top coat.
All the new Guerlain Nail Enamels have a scented formula of the famous La Petite Robe Noire fragrance and deliver a high-gloss finish that will be scented for 24 hours.
The bottles are pretty small (I got these as testers) but quite easy to hold while the brush is very short but thick. Guerlain My First Nail Polish is definitely one of the lightest shades of this collection, it looks really feminine and girly girl if you like and delivers a sheer coverage.
The rest of the shades that I tested are truly pigmented with a gorgeous luscious color. I can't wait to tell you more about each one of these beauties.
Don't forget to follow Chicprofile Instagram account for more photos and swatches that will not be posted on other social media accounts.
Enjoy more photos…