Hello sweeties!
Last night I've been teasing you with my latest makeup purchases which included some MAC stuff as well so right this morning I knew I ought to share with you what I've bought. The new MAC Vamplify 2016 Collection (info, photos) just reached Romania so you'd better hurry and check it out as it will fly off of counters so fast. MAC Vamplify comes the second time around, after their success back in the fall of 2015. I did manage to get me some shades back then but honestly when arrived at the counters most of my favorites were sold-out. This year I couldn't let that happen again so yesterday I hurried to my nearest MAC Store.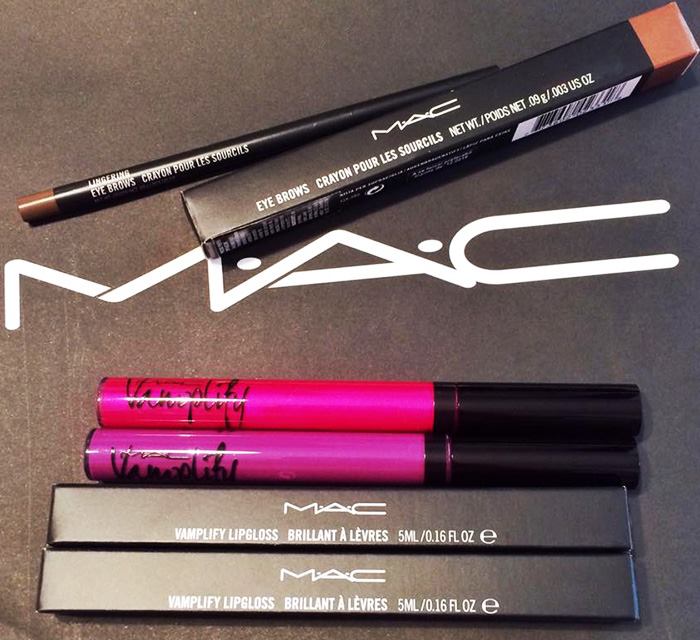 Availability
Romania – Now at MAC Stores
U.S. & International – online @maccosmetics.com and MAC Locations
I got myself the Lingering Brow Pencil (78.00 Lei / $17.00), which I've been using for years and two shades of MAC Vamplify (104.00 Lei / $20.00 / $24.00 CAD). Even though I took a few months break from using Lingering Eye Brows (because I was testing other brow products) I just couldn't help missing this product. I'm on my fourth re-purchase, so it seems that I always come back to it in the end. It just works for me as I prefer self-sharpening brow pencils with a thin mine. They recently released new brow products and especially the new Brow Sculpt ($21.00) pencils but I find their texture a bit waxy and I'm done with this type of formula. They are retractable pencils and offer a matte color but when it comes to the formula is a no go for me.
No moving on to the main reason why I stopped by MAC counter, actually my favorite part…the new MAC Vamplify lip glosses. First of all, I knew I had to get fresh supplies of How Chic Is This This? (review, swatches) a gorgeous and intense violet-purple with a mega-glossy finish. I've been crazy over this color since I first got it last fall and back then I bought a double just to make sure it will last me a few good months.
The new shade I bought is What's Going On? (upcoming review) a hot, intense fuchsia that is a repromote from MAC Vamplify 2015 but which was sold out so fast that I didn't even had time to see it in person.
For a lip gloss addict like me, MAC Vamplify is a dream come true. Highly pigmented lip glosses which offer a full coverage and an intense glossy finish which wears for hours. They feel lightweight and so comfortable on the lips thanks to its formula enriched with lush natural oils (Coconut Oil, Sweet Almond, Avocado, Sesame). They are the most dramatic lip glosses I have even come across with. If they'll be shades left in stock this month before I'll get my salary, I'm definitely going back for more. 🙂
Photos were taken with my iPhone so please excuse the poor quality.